The Steering Committee for Prevention and Control of Infectious Diseases and its units stand ready to prevent the Middle East Respiratory Syndrome Coronavirus (MERS-CoV) from coming to Vietnam or any death related to it, Minister of Public Health Nguyen Thi Kim Tien told a meeting in Hanoi on June 8.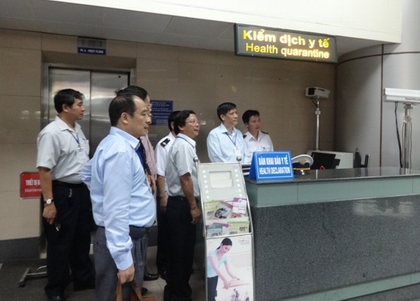 The most effective precaution is isolation and pasteurisation in hospitals, she said.
Head of the Ministry of Public Health's Department of Preventive Medicine Tran Dac Phu admitted no case of MERS-CoV in Vietnam but warned about its risk of arrival.
Three cases of suspected infection in Vietnam have been tested negative to the virus.
The same day, the ministry held a live nationwide training session on MERS-CoV supervision and treatment.
In the face of the MERS-CoV outbreak in the Middle East and the Republic of Korea, the Vietnam National Administration of Tourism and the Hanoi Department of Culture, Sports and Tourism issued a document guiding the temporary delay of tours to affected countries.
In southern metropolis Ho Chi Minh City, the municipal Department of Public Health asked agencies and units concerned to keep alert and vigilant to the virus threat.
According to the World Health Organisation, MERS-CoV has so far spread to 26 countries with 1,218 patients, 450 of whom have died. In the Republic of Korea, 87 cases have been recorded with six deaths.
MERS-CoV, first reported in Saudi Arabia in 2012, belongs to a family of corona viruses including SARS, which haunted Asia in 2003.
The disease can spread between humans and causes fevers, breathing problems, pneumonia and kidney failure