Vietnam won eight gold medals on June 14 and ensured their target of being in the top three at the Southeast Asian (SEA) Games in Singapore.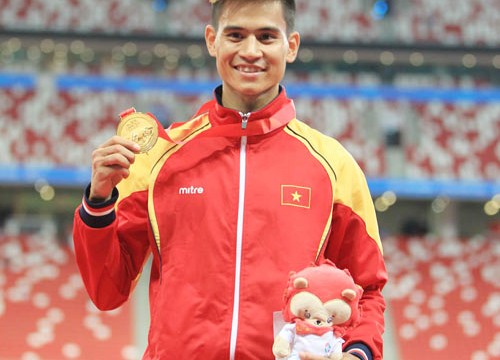 The Vietnamese delegation have won 73 golds, 51 silvers and 56 bronzes.
Thailand are on top with 87 gold medals, followed by the hosts with 82.
The result has exceeded expectations of 56-65 golds.
Nguyen Van Linh kicked off the day with his second gold in rowing.
Linh finished the men's lightweight single 1,000m event with a time of 3min 33.13sec, just 0.67sec faster than runner-up Saensuk Jaruwat of Thailand.
"Thailand and Indonesia are very strong in this category. I was a little nervous prior to the competition because of the heavy rain," said Linh.
"In the first 500m, I thought that I would lose after my rivals pass me. Luckily, I pulled hard in the last metres and finished first," he said.
Ta Thanh Hien and Pham Thi Thao also stepped to the top podium after triumphing in the women's lightweight doubles 1,000m.
Le Thi An and Pham Thi Hue triumphed in the women's pairs over 1,000m with a time of 3:41.72, 0.07sec faster than silver medalists from Indonesia.
"I cannot believe we won a gold medal in such a breathtaking race. The Indonesians led from the beginning, but we caught up with them with an iron spirit. I did not know if we had won or not," said Hue.
"It was only when we saw our coach cheering on the bank that we realised, and An and I burst into tears of happiness and exhaustion."
The Vietnamese rowers completed their golden day with the fourth gold in the women's lightweight fours over 1,000m, leaving behind their rivals from Thailand and Indonesia.
The canoeing-rowing team finished the SEA Games with nine golds, four silvers and four bronzes.
"I do not know what to say now. It is a really really outstanding performance; more than we could imagine, the best ever result we have had at the SEA Games," said Nguyen Hai Duong, head of the Canoeing-Rowing Department.
Yesterday was also the last day of pencak silat, an Indonesian martial art.
Diep Ngoc Vu Minh scored his first title in three SEA Games in the men's U50kg category.
Minh, who suffered a stomach injury in the semi-finals, beat Indonesia's Nur Awaluddin 5-0.
"I did not think about a gold medal, especially as Awaluddin is a world champion. I was nervous but my coach and teammates encouraged me a lot and they helped me to win," said Minh, who plans to retire and become a coach when he arrives home.
Following Minh, Hoang Thi Loan easily won her title after defeating another Indonesian rival Wita Wewey 5-0 in the women's U60kg pool.
Earlier, Nguyen Nguyen Thai Linh of Vietnam, who was expected to take gold after dominating the final of the men's U60kg against Chamaeng Adilan of Thailand, unintentionally knocked his opponent out, and was awarded a silver.
"I didn't mean to hit him in the face. It happened quickly when he lowered his head," said Linh.
It is the second time that Chamaeng has won by an opponent being disqualified. He was also knocked unconscious in his bout against Arafa Muhamad Yachser of Indonesia in the quarter-finals.
In the afternoon, top archer Nguyen Tien Cuong triumphed in the men's individual compound, overcoming Ruslan Zulfadhi of Malaysia 138-137.
The last title of the day went to taekwondo fighter Ha Thi Nguyen who beat Brunei representative Ja'afar Nurulain 22-0 in the final of the women's U62kg class.
Vietnamese athletes also bagged silvers in pencak silat, taekwondo and cycling, and bronzes in rowing.