Vietnam enters AFF Suzuki Cup semifinals
Vietnam defeated Malaysia 1-0 to maintain its leading position in Group B with six points after two matches and secure a place in the semifinals of the AFF Suzuki Cup 2016.
Midfielder Nguyen Trong Hoang scored the only goal after 79 minutes in a match under scorching heat that culminated with five added-time minutes full of excitement as Vietnam and Malaysia both created clear-cut chances to change the scoreboard.
Vietnam was the better team throughout the match, displaying its attacking tactics from the start and pushing Malaysia into its own half ground.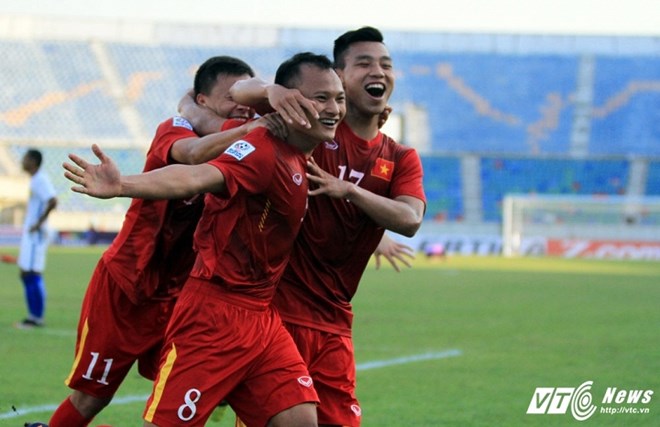 Midfielder Nguyen Trong Hoang (centre) celebrates his moment of victory (Photo: vtc.vn)
Vietnam's real clear-cut chance in the first time fell to Hoang after Luong Xuan Truong's pass put Hoang face the Malaysian goalkeeper but he failed to take shot.
Hoang again missed another chance in the second half before beating the Malaysian goalkeeper. Again Hoang's goal was set up by Truong.
Vietnam will play its last group match against Cambodia on November 26.
The loss kept Malaysia in second place with three points. They now will have to compete the second ticket of the group with the host Myanmar and Cambodia, who will play each other later.
In group A, Thailand was the first team to reach the semifinal round after two victories over Indonesia and Singapore.
VNA