Vietnam draw with Chinese Taipei 1-1
Vietnam wasted many chances and ended with a 1-1 draw in a friendly march against Chinese Taipei on March 22 in Hanoi.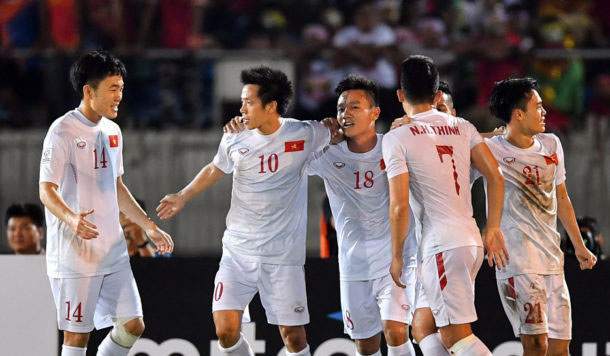 Vietnamese football players (Source: foxsportsasia)
Lee Pin-hsien opened the score in the 84th minute for the visitors and Nguyen Cong Phuong leveled for Vietnam four minutes later.
As the hosts with strong support from local fans, Vietnam set up their domination from the beginning, while Chinese Taipei, considered the weaker team, tried to play a defensive game.
Just five minutes into the game, Tuan Tai was in a one-one position with goalkeeper Chiu Yu-hung after a long pass from the left. However, Chiu reacted rapidly to save his net.
Later, midfielder Nguyen Trong Hoang also tested Chiu's talent, but his finish was not difficult enough for an opener.
Hoang nearly scored a goal for the hosts near the end of the first half but his header was rejected by the cross bar.
His teammates, Dinh Thanh Trung and Van Thanh, also missed their chances as Chiu was at his peak during the game.
The 22-year-old goalie performed well, closing all the ways that led to his net.
Coach Nguyen Huu Thang made changes to strengthen his front line in the second half.
His favourite striker Nguyen Van Toan and midfielder Nguyen Phong Hong Duy were put on the field.
Vietnam continued to attack strongly, while Chinese Taipei pushed their speed up but neither scored.
Duy made his mark with a threatening opportunity at the 82nd minute, but his shot in a comfortable situation went wide.
Chinese Taipei, who made less attempts during the match, found their goal two minutes later.
Lai Chih-hsuan received a ball in the box and passed it to Lee, who stood freely near the left post of Vietnamese goalkeeper Phi Minh Long.
The midfielder had not better chance to score.
It was a shock for Vietnam who beat Chinese Taipei in two recent meets.
The hosts recorganised their team and tried to score an equalizer.
A long ball was kicked from the home side's area to start an attack heading to Chinese Taipei's box.
Defender Hung Tzu-Kuei headed it out but unfortunately, he gave the ball to striker Nguyen Cong Phuong, whose immediate shot touched Hung's back and changed direction to enter the net.
Keeper Chiu tried but could not block the ball.
Coach Thang said he is satisfied with his young players, saying that they tried hard and created many changes.
Some of them were young and were playing in the national team for the first time. They needed time to improve./.
VNA
Link:
http://en.vietnamplus.vn/vietnam-draw-with-chinese-taipei-11/109133.vnp