Vietnam brings home AFF U15 championship trophy
Vietnam's national U15 team returned home on July 23 with the ASEAN Football Federation (AFF) Under-15 Championship trophy held in Thailand.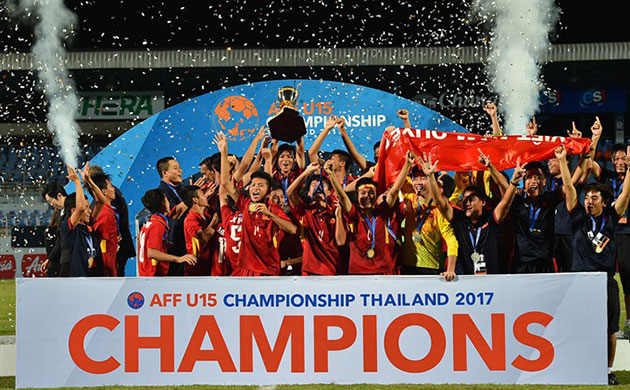 Vietnam team celebrates with the AFF Under-15 Championship trophy in Thailand (Photo: vff.org.vn)
The team beat hosts Thailand 4-2 on penalties to lift only their second crown in the 13-year history of the meet on July 22.
"The final between Vietnam and Thailand is over, but I still get the happy feeling. My players beat Thailand on Thai ground. This win is dedicated to all the Vietnamese fans," coach Vu Hong Viet said to the media at Noi Bai International Airport.
"There is no secret to the Vietnam team's success, but it was my players' confidence that worked. During the training sessions, before and after every match, I would often tell them 'the training board believes in you, and you will take the title, although your rival is Thailand'," Viet said.
"The confidence and focus helped Vietnam develop their fitness, as well as improved their skill and raised their spirits during the match, and they triumphed in the tournament meritoriously," Viet added.
The score at the end of the official 80 minutes match was 0-0.
Vietnam was never over-awed by the occasion, and they took on the confident Thais blow by blow.
The visitors played in a defence-attack style, since the referee blew his whistle, while the Thai players tried to push the Vietnamese players into a passive situation.
However, the hosts' design failed in front of the calm and confident Vietnam team.
Thailand created a chance in the 15th minute through Woragon Thongbai, but Thanarin Thumsen missed the plot completely with a weak shot. In reply, Vietnam sent in a clever lob when Thai keeper Anuchid Taweesri was out of position.
However, the ball narrowly missed the upright.
The second half was again a string of missed chances, as both Vietnam and Thailand were not able to make the breakthrough.
The two sides then had to go to the penalty shootout to decide the winner.
Vietnamese players carried out all the four penalties successfully.
Goalkeeper Nguyen Duy Dung shone in the match, when he stopped two attempts by the hosts to help Vietnam win 4-2.
Coach Salvador Garcia of Thailand admitted that Vietnam was more stable during the penalty shootout.
Vietnam directed the match towards an unexpected result. They created pressure on the Thai players.
Receiving the news of Vietnam winning the AFF trophy, Minister of Culture, Sports and Tourism Nguyen Ngoc Thien sent a congratulatory message to the team and wished they try their best in training and competition.
In the other match, Australia emerged third in this year's competition when they beat Malaysia 3-2.
The AFF championship, hosted by Thailand, saw the first edition of the tourney in the under-15 category, after having reverted from a traditionally under-16 competition./.
VNA
Link:
http://en.vietnamplus.vn/vietnam-brings-home-aff-u15-championship-trophy/115277.vnp