TPP member states commit to regional economic, trade integration
Member states of the Trans-Pacific Partnership (TPP) committed to seeking a new path to promote regional economic and trade integration during a high-level meeting in the Chilean city of Vina del Mar on March 15.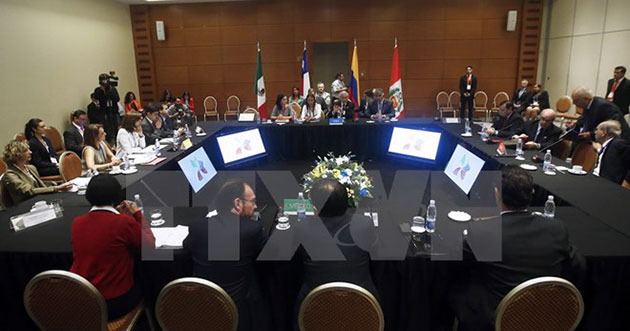 At the meeting (Source: EPA/VNA)
It was their first such gathering after President Donald Trump withdrew the US from the ambitious trade deal in late January.
Addressing the media, Chilean Foreign Minister Heraldo Munoz said participants voiced concern over protectionism in many parts of the world and reiterated their commitment to work together to keep markets free and open, advance regional economic integration and strengthen the rules-based international trading system.
According to him, 11 TPP member countries, excluding the US, affirmed the importance of the deal and mentioned various options going forward.
The ministers said a ministerial meeting be convened to decide the future of the pact in May, when the Asia-Pacific Economic Cooperation forum takes place in Vietnam, he said.
In a short communiqué issued following the meeting, US Ambassador to Chile Carol Perez stated that the White House is willing to hold dialogues with Asian-Pacific partners and expressed hope to continue being a key member in the region.
She said the US government has outlined a trade roadmap to increase exchanges with all Asian-Pacific partners via high-level agreements for trade liberalisation and fairness.
Besides Japan and the US, the TPP includes 10 other countries: Australia, Brunei, Canada, Chile, Malaysia, Mexico, New Zealand, Peru, Singapore and Vietnam./.
VNA
Link:
http://en.vietnamplus.vn/tpp-member-states-commit-to-regional-economic-trade-integration/108764.vnp