Sales of completely – built units (CBUs) increased 114 percent to reach 8,484 in March, according to the latest data released by Vietnam Automobile Manufacturer's Association (VAMA).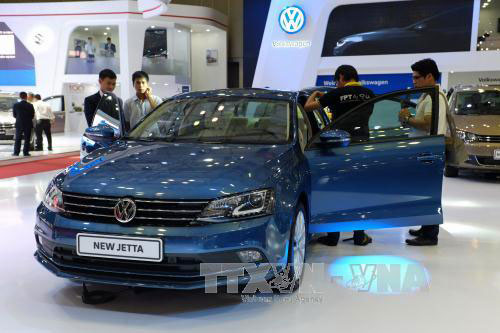 Illustrative image (Source: VNA)
More than 18,388 complete knock down (CKD) units were sold last month, up only 35 percent, said VAMA.
Total automobile sales in March rose 52 percent from the previous month to nearly 27,000 units, despite people waiting for prices to further reduce.
Of the total, 16,805 units were passenger cars, up 67 percent; 8,278 units were commercial vehicles, up 31 percent; and 1,789 units were special-purpose vehicles, up 45 percent.
Domestic manufacturer Truong Hai Auto Corporation led VAMA members with 9,468 units sold, occupying 45 percent of the country's market share.
Second was Toyota Vietnam with 4,679 units, 20.5 percent of market share.
Ford Vietnam came third with 2,501 units, 11 percent of the market share.
Total automobile sales in the first quarter of 2017 experienced a year-on-year increase of 8 percent to 64,729 units with passenger cars up 23 percent while commercial and special-purposes vehicles declined by 10 and 13 percent respectively.
In addition, the number of CBUs sold expanded 41 percent while CKDs slid one percent./.
VNA
Link:
http://en.vietnamplus.vn/sale-of-cbu-cars-up-114-percent-in-march/109988.vnp