Quang Tri allocates compensation to environmental victims
The central province of Quang Tri has begun distributing compensation money to those affected by the marine pollution incident caused by Taiwan's Formosa Ha Tinh Steel Corporation.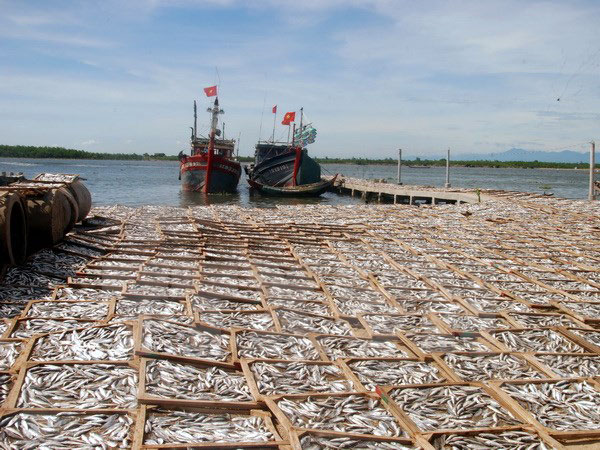 Illustrative image (Source: VNA)
Vo Van Hung, director of the provincial Department of Agriculture and Rural Development and vice chairman of the council on enumeration and compensation for damages caused by the incident in Quang Tri province, said from November 1-15, the province will provide compensation to people in 16 coastal communes.
In preparation for providing compensation, localities have listed those eligible, determined their losses, calculated compensation levels and answered questions from affected citizens.
Quang Tri has more than 8,000 households with nearly 45,000 people, over 2,800 boats from 16 coastal communes and towns in four districts – Vinh Linh, Gio Linh, Trieu Phong and Hai Lang – severely affected by the incident.
Total compensation for the province will be 1 trillion VND (approximately 45 million USD).
Hung said the compensation process had been drawn out due to delays in appraisal procedures and the process to determine the beneficiaries of the compensation and how much by various agencies.
Besides that, determining the beneficiaries on a large scale and calculating their losses is complicated and time-consuming, he said.
Operations of Hung Nghiep Formosa Ha Tinh Steel Co. Ltd resulted in mass fish deaths along the coast of the central provinces of Ha Tinh, Quang Binh, Quang Tri, and Thua Thien-Hue between April and May.
The pollution damaged about 400 hectares of coral and affected over 260,000 people who earned their living in sea-related activities.
The firm compensated over 11.5 trillion VND (500 million USD) to support local fishermen switch to other jobs and recover the polluted maritime environment.
It also vowed to deal with shortcomings in waste and wastewater treatment./.
VNA
Link:
http://en.vietnamplus.vn/quang-tri-allocates-compensation-to-environmental-victims/101567.vnp