On the morning of November 1st, in Cần Thơ city, Cần Thơ city's people's committee and Việt Nam Chamber of Commerce and Industry – Cần Thơ branch organized a press conference to introduce the 2nd Việt Nam – Japan culture- commerce exchange programme.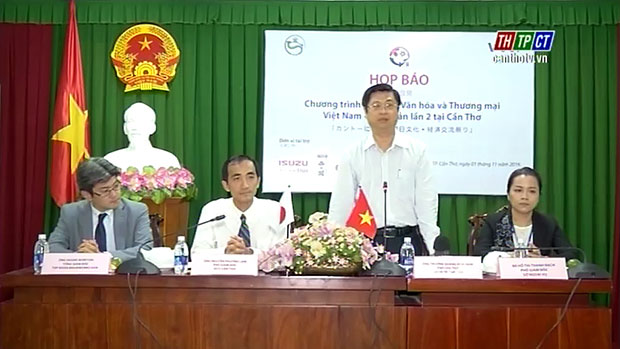 Vice chairman of Cần Thơ city people's committee Trương Quang Hoài Nam (standing) presided over the meeting.
Accordingly, the 2nd Việt Nam – Japan culture and commerce exchange programme is going to be held from November 11th to 13th at Lưu Hữu Phước park.
This programme is held at the city level with 70 booths; 20 of which introduce Japanese culture and products and the others introduce Vietnamese culture and products.
Products on display are in the fields of agriculture, industry, tourism, drugs, souvenirs…
In line with cultural exchange programme, there will be 2 important large-scale economic events including the 4th Mekong delta annual investment congress and the Việt Nam – Japan trade exchange cooperation seminar.
Especially, the opening ceremony for the Việt Nam – Japan culture – commerce exchange programme will take place at 7pm on November 11th and will be live on the channel of Cần Thơ city Radio and Television station./.
Nguyễn Hường – Ngọc Trung