Population administrative procedures simplified
Ministries and agencies have proposed simplifying 1,126 out of 1,934 administrative procedures related to population management, heard a meeting held last week to review a master plan on simplifying administrative procedures, citizenship papers and the population management database for 2013-2020.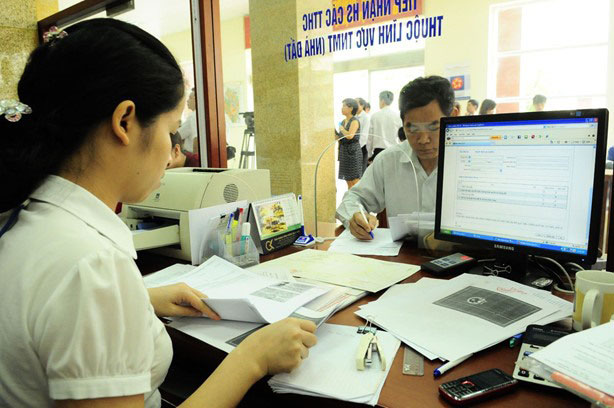 Illustrative image (Photo: baodauthau.vn)
The master plan, known as Programme 896, was approved by former Prime Minister Nguyen Tan Dung in 2015 as part of the development of e-government in Vietnam.
The plan aims to increase the use of IT in administrative procedures, reduce paperwork and streamline processes related to population management.
Under the plan, basic information on every citizen will be included in a national database on population using personal identification numbers by the end of 2020.
Regarding issuing personal identification numbers, the Ministry of Public Security reported that it co-ordinated with the Ministry of Justice to install birth certificate registration software on a trial basis at population registration and management agencies in 12 provinces and cities, including Hanoi, Hai Phong, Da Nang, HCM City, An Giang, Dong Thap, Sac Trang, Ha Nam, Ha Tinh, Quang Ninh, Vinh Long and Nghe An.
By February 5, 335,371 newborns had their birth certificates registered and were issued citizen identification numbers.
The scheme will be rolled out nationwide in April.
Many participants at the meeting proposed granting personal identification numbers to Vietnamese people who return to Vietnam from abroad.
The national population management database plan was approved and is ready to be built, according to Deputy Prime Minister Truong Hoa Binh, who is also Head of the Programme Steering Committee.
Regarding the implementation of the programme in 2017, the deputy PM urged ministries and agencies to intensify efforts to build technical infrastructure for the national database.
The database will be decisive to the success of the national scheme to simplify administrative procedures, citizenship documents and population management, he said.
Bình asked the ministries and agencies to review difficulties and obstacles in granting personal identification numbers to those in remote and mountainous areas and people working and studying abroad.
The 2017 tasks will focus on completing the construction of the national database on population, expanding the granting of personal identification numbers nationwide and submitting a resolution on administrative procedures simplification to the Government./.
VNA
Link:
http://en.vietnamplus.vn/population-administrative-procedures-simplified/107118.vnp