PM meets Australia counterpart, UN leader in Vientiane
Prime Minister Nguyen Xuan Phuc had a meeting with his Australian counterpart Malcolm Turnbull in Vientiane, Laos on September 8, during which he asked for Australia's assistance in climate change response, sustainable development, and education.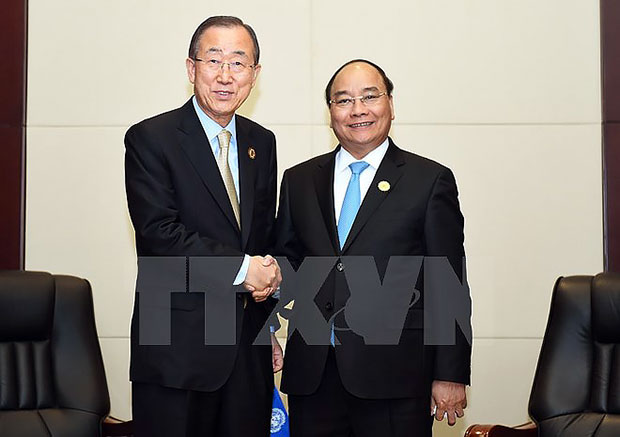 PM Nguyen Xuan Phuc (R) met UN Secretary-General Ban Ki-moon in Vientiane on September 8 (Photo: VNA)
At the meeting, which was held on the sidelines of the 28th and 29th ASEAN Summits and related meetings, the Vietnamese leader highly valued Australia's assistance in infrastructure development, education, poverty reduction, clean water and environmental sanitation.
He proposed that Australia widen its door for Vietnamese farm produce, while speeding up the conclusion of the risk assessment procedures on Vietnam's dragon fruit to allow the fruit to be sold in its market.
The two PMs expressed delight at the growing bilateral ties and discussed measures to further the comprehensive partnership, especially in economy, trade and investment.
PM Nguyen Xuan Phuc affirmed that Vietnam always backs foreign investors, including those from Australia, to expand their business in Vietnam.
Regarding the international and regional situation, both sides underscored the significance of maintaining peace, security and cooperation in the East Sea, respecting international law, and settling disputes through peaceful measures in line with the UN Convention on the Law of the Sea 1982, and agreed to enhance coordination for the targets.
The same day, PM Nguyen Xuan Phuc also met UN Secretary-General Ban Ki-moon, during which he lauded the UN's responses to global challenges.
He said he hopes the UN will continue promoting its leading role in keeping peace, safeguarding international security, and supporting countries to implement important agreements, especially the 2030 agenda on sustainable development and the Paris Agreement on climate change.
As an active and responsible member of the international community, Vietnam commits to joining the UN's efforts and initiatives, he pledged, revealing that the country is implementing sustainable development goals and integrating the work into its socio-economic development plans.
Vietnam hopes for more aid from the UN in realising the plans, thus effectively coping with climate change and securing sustainable development, he stated.
The UN leader hailed Vietnam's support and close coordination, especially in the commencement of One UN policy.
He affirmed that UN bodies will work together with Vietnam in fulfilling sustainable development goals and dealing with climate change, contributing to the success of Vietnam's socio-economic development goals./.
VNA
Link:
http://en.vietnamplus.vn/pm-meets-australia-counterpart-un-leader-in-vientiane/98764.vnp