PM issues urgent instruction to cope with saltwater influx in Mekong Delta
PM issues urgent instruction to cope with saltwater influx in Mekong Delta.
Currently, nine of 13 provinces and cities with nearly 40 percent of land in Mekong Delta have been impacted by saltwater influx. Nearly 20, 000 hectares of winter spring rice crops, fruit orchards were destroyed and 155, 000 households are facing to the shortage of water for their life and farm. Especially, saltwater influx destroyed 70 percent of seed land in Ben Tre province.
Saltwater influx is predicted to continue to affect extremely to Mekong Delta region in March, April, and even last until June, causing extreme fresh water shortage on the large scale as well as serious damages to local residents.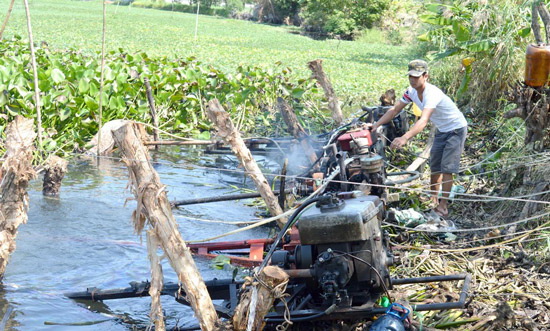 Farmer has to pump salt water out of the canal to save rice crops.
In order to actively cope with the bad weather condition, the prime minister required Inter – Ministries of Agriculture and Rural Development, Finance, Planning and Investment and Labor, Invalids and Social Affairs to collaborate with local authorities to keep close watch the saltwater influx and drought, and have timely assistance measures to affected areas.
Pursuant to the PM's instruction, the People's Committee of provinces and cities in Mekong Delta region need to focus on finding effective solutions to ensure a sufficient supply of fresh water and water irrigation to rural areas such as digging wells and canals for water, building dykes to prevent saltwater intrusion to reduce damages and ensure production and aquaculture areas.
SGGP