US Defense Secretary Ash Carter met a top Chinese general on June 11 and repeated a US call for a halt to land reclamation in the East Sea while stressing that the Pentagon remained committed to expanding military contacts with China.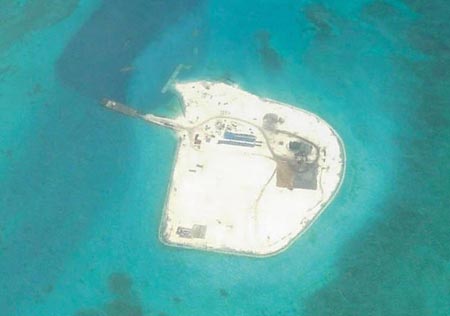 In the meeting with General Fan Changlong, a deputy head of China's powerful Central Military Commission, Carter stressed his commitment to developing "a sustained and substantive US-China military-to-military relationship," the Pentagon said.
It said this would be based on a shared desire to deepen cooperation in areas, including humanitarian assistance, disaster response, peacekeeping, counter-piracy, as well as "constructive management of differences".
 In reiterating US concerns about tensions in the East Sea, Carter called on China and all rival claimants to halt land reclamation and militarization of disputed territory, and to pursue a peaceful resolution in accordance with international law, the Pentagon statement said.
Carter also reaffirmed his commitment to reach a consensus by September on a memorandum of understanding aimed at reducing the risk of accidents when the two countries' aircraft operate in close proximity, the statement said.
Fan's visit to the Pentagon was part of a week-long visit to the United States, which will include a meeting with US National Security Adviser Susan Rice at the White House on June 12. Earlier this week, Fan visited the aircraft carrier USS Ronald Reagan and US military bases.
Wu Xi, deputy chief of mission at the Chinese embassy in Washington, said on June 10 that Fan's trip was aimed at preparing the way for a visit by Chinese President Xi Jinping in September.
 Reuters