Party General Secretary Nguyen Phu Trong underscored the importance of human and material resources for development during a working session in Hanoi on September 15 with the standing board of the Party Committee of Mekong Delta Can Tho city.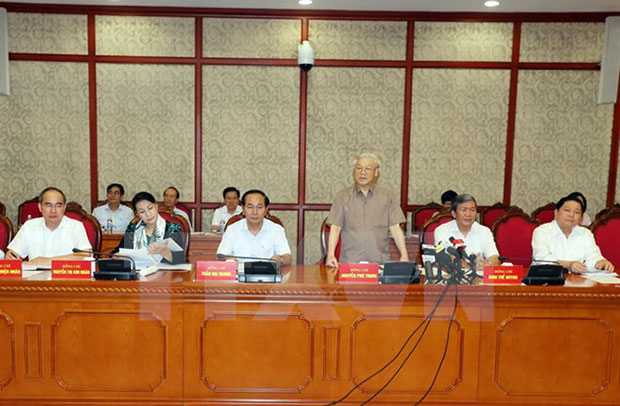 At the event (Source: VNA)
The session mulled over the 10-year implementation of the Politburo (ninth tenure)'s Resolution on developing Can Tho city during the industrialisation and modernisation.
The Party leader asked Can Tho to continue restructuring the economy, renewing growth model with top priority being given to the service sector while simultaneously developing high-quality industry and high-tech agriculture.
Between now and 2020, Can Tho needs to rally all possible resources, seek new momentum for growth to deserve its reputation as a socio-economic hub and a driver of the Mekong delta regional economy, he said.
He suggested Can Tho take the lead in further upgrading transport infrastructure to strengthen regional connectivity and attract tourists, and improving business environment by hastening administrative reform.
To that end, workforce training is a must, he stressed, adding that Party members and officials need to abide by the resolution on Party building adopted at the fourth plenum of the 11 th National Party Congress.
The Politburo discussed Can Tho's development targets and tasks as well as its proposals.
Over the past 10 years, the city's economy has grown 13.98 percent annually on average. The gross domestic product per capita amounts to 3,636 USD per year while the rate of poor households has been reduced to 1.71 percent.
Social welfares have been ensured and the Party building has seen positive results./.
VNA
Link:
http://en.vietnamplus.vn/party-chief-underscores-resources-for-can-tho-development/99086.vnp