Nine missing after boat sinks off Vung Tau
The Vietnam Maritime Search and Rescue Co-ordination Centre is mobilising efforts and has called for support from all vessels to participate in the search for nine missing crewmen.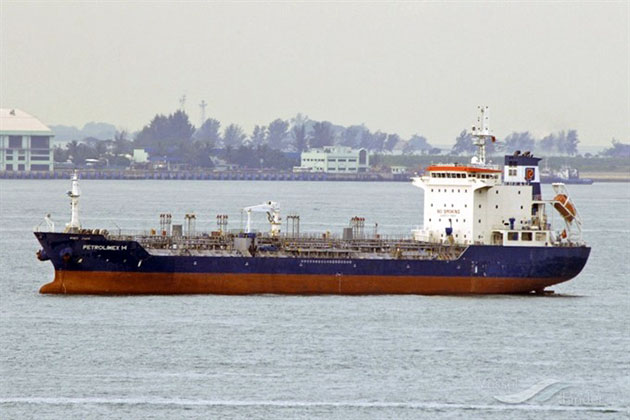 Petrolimex 14, one of the vessels participating in the rescue and search for nine missing crewmen. (Photo: daidoanket.vn)
The crewmen were on board a cargo ship that sank in the Vung Tau sea on March 28.
At about 4.37am the same day, the centre received an emergency rescue signal from the Hai Thanh 26, some 44 nautical miles east of Vung Tau city in southern coastal Ba Ria-Vung Tau province.
The centre immediately asked the Petrolimex 14 – another vessel sailing some five nautical miles near the signal site – to come to the area.
At the same time, the centre also informed two other vessels – SAR413 and SAR 272 – to reach the area to support the rescue.
Arriving at the area, Petrolimex 14 found a breeches-buoy with two crewmen on board. Both were rescued.
One of the crewmen said the other crewmen of Hai Thanh 26 had drifted away on another breeches-buoy.
The Petrolimex and two vessels continued their search around until they found another breaches-buoy at about 8.10am, but there was no one on board.
According to Hoang Tien Khoi, one of the two crewmen rescued by the Petrolimex 14, the Hai Thanh 26 – a cargo ship with some 3,000-tonne transport capacity – sank after colliding with another cargo ship in the Vung Tau sea.
The accident occurred when the cargo ship with 11 crewmen and clinker on board was sailing from northern Hai Phong city to southern Can Tho city, Khoi said.
Following the accident, Prime Minister Nguyen Xuan Phuc issued a dispatch requesting the Ministry of Transport, in conjunction with the National Committee for Search and Rescue, the Ministry of National Defence and other related ministries, agencies and localities, to take urgent measures to look for the missing crewmen.
It was ordered to work with the Ministry of Public Security to clear up the cause of the accident and report to the PM.
PM Phuc also asked the People's Committee of Ba Ria-Vung Tau and the owner of the Hai Thanh 26 to visit the rescued crewmen and families of the missing.
The Ministry of Transport must instruct the Vietnam Maritime Administration and competent agencies to tighten management over marine shipping in order to ensure safety and avoid similar accidents, the dispatch noted./.
VNA
Link:
http://en.vietnamplus.vn/nine-missing-after-boat-sinks-off-vung-tau/109412.vnp