On the morning of August 25th, Mr. Phạm Gia Túc – Vice Secretary of Cần Thơ city Party Committee, Mr. Nguyễn Thanh Dũng – Vice Chairman of the city People's Committee and representatives of Vietnam State Bank, Cần Thơ branch, Cần Thơ city Management Board for Industrial and Processing Zones worked with Commerce and Industry Bank, Tây Đô Branch.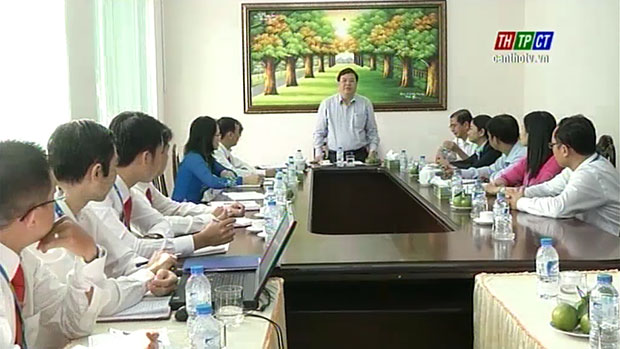 Mr. Phạm Gia Túc (standing) worked with Vietcombank-Tây Đô branch.
Operating since 2006, Commerce and Industry Bank, Tây Đô Branch has step by step developed and gained good results.
In the first 6 months of this year, Commerce and Industry Bank, Tây Đô Branch mobilized VND 1,273 billion from various capital sources, VND 693 billion from customers and enterprises, exceeding targets.
The branch's profit reached VND 14.7 billion, taking up 34.8 percent of targets.
Making a speech at the meeting, Mr. Túc highly valued efforts and achievements of the branch in recent years.
At once, he asked the branch to continue striving for making the Party stronger, enhancing anti-corruption, well implementing public relations at grassroots level, applying technology-information effectively, improving quality of services to win trust from customers.
He also suggests the branch to continue assisting enterprises, contributing to developing the city's economy in following time./.
Hồng Đoan – Thanh Hải
Translated by Phương Đài