Industrial production index up 7.2 percent in 10 months
Vietnam's industrial production index (IPI) in the first ten months of 2016 rose 7.2 percent year-on-year, lower than the 9.8 percent level recorded in the same period last year due to a continuous downturn in the mining industry.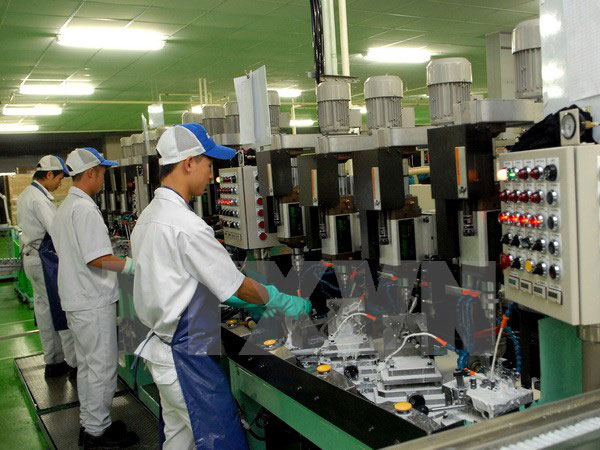 Illustrative photo (Photo: VNA)
According to the General Statistics Office (GSO), the IPI of the mining industry fell 5.5 percent, while the production of crude oil and natural gas dropped 7.5 percent.
Meanwhile, a surge from 14 to 16.7 percent was seen in the IPI of the metal industry, textiles, engine production, electronics, computer and optical products.
In the reviewed period, the production of some industrial products soared compared to the same period last year, with the highest rise in television at 79.2 percent, steel sheet at 25.7 percent, automobiles at19.7 percent, and animal feed at 19.7 percent.
The GSO also reported that the central province of Quang Nam posted the highest IPI rise at 29.2 percent, followed by the northern province of Thai Nguyen with 26.6 percent.
Hai Phong, Da Nang and Can Tho cities saw an increase of under 20 percent in the index.
The IPI of thetwo major cities of Ho Chi Minh City and Hanoi was up 8.1 and 6.8 percent, respectively.
As of October 1, the inventory index of the processing and manufacturing sectors expanded 8.9 percent year on year, down 0.9 percent compared to the growth of the same period last year.
Notably, some industries saw a decrease in the inventory index such as electric devices with a fall of 7.9 percent, pharmaceuticals and pharmaceutical chemistrywith 8.9 percent,prefabricated metal products 12.7 percent, leather and relevant products 24.9 percent.
However, the index surged 55.4 percent in paper production, 45 percent in electronic, computer and optical products, and 42.6percent in engined vehicles./.
VNA
Link:
http://en.vietnamplus.vn/industrial-production-index-up-72-percent-in-10-months/101537.vnp