Hanoi Exchange reports good results in first half
The Hanoi Stock Exchange (HNX) has mobilised 212 trillion VND (9.46 billion USD) in Government bonds for the State budget in the first half of this year, said Nguyen Thanh Long, the exchange chairman.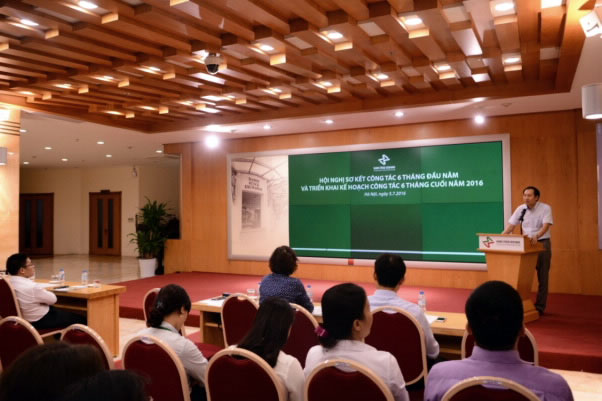 (Photo: tbck.vn)
Long, speaking on Tuesday, also said that capital of the Unlisted Public Company Market (UPCoM) doubled compared to 2015 as HNX undertook various measures to promote the scale and liquidity and improve the quality of the market.
For example, HNX promptly issued regulations on organisation and management of unlisted firms, which contributed to the liquidity soar during the first six months when the average trading volume reached 9.6 million shares per session and the transaction value over 134 billion VND (6 million USD) per day, an increase of 248 percent in volume and 212 percent in value compared to the same period in 2015.
On the listed market, as of June 30 the share value of the secondary market reached 750-760 billion VND per session.
The bourse has approved the listings of ten new firms with a total value 2 trillion VND, a two-fold increase in the number of firms and of 224 percent in value over the same period in 2015.
Furthermore, HNX also strengthened the management and supervision of listed firms to promote corporate governance in accordance with good practice.
At the same time, HNX also actively supported the amendment of directives on building corporate bond schemes and developing policies on the derivatives market. Long said the exchange was also boosting the construction and development of the derivatives market so that it can go into operation in the first quarter of 2017.
According to the chairman, the exchange and the Vietnam Securities Depository were working together to find a system solution on the same technology platform and trading software for the derivative products.
Also in the first half, HNX said it carried out ​ 36 auctions, including 24 initial public offerings of State-owned enterprises, selling 290 million shares, or 83.6 percent of offering shares at a value of more than 3.7 trillion VND.
VNA
Link:
http://en.vietnamplus.vn/hanoi-exchange-reports-good-results-in-first-half/95852.vnp