Fidel Castro – Great friend of Vietnam
"Cuba is willing to devote blood for Vietnam" is among famous statements of Cuban revolutionary leader Fidel Castro, a name that Vietnamese people always keep in their mind with love, admiration and deep sympathy.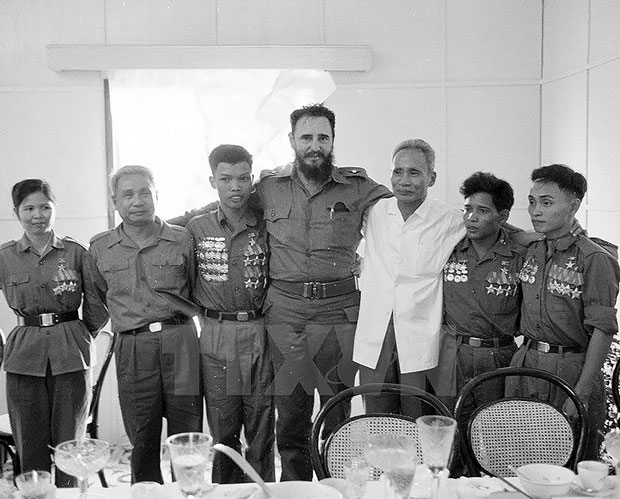 Late Cuban leader Fidel Castro (middle), late Prime Minister Pham Van Dong (in white) and Vietnamese reporters in Quang Tri in 1973 (Photo: VNA)
For decades, Fidel Castro had been a symbol of revolutionary heroism, spirit of undaunted struggle and desire for freedom and happiness.
Under the leadership of Fidel, Cuba was the pioneer in the world movement of supporting Vietnam's struggle for independence as well as national construction.
Cuba was also the first country to recognise the National Liberation Front of South Vietnam in December 1961, as well as the first and only to set up its embassy to the front in September 1963.
During that period, Cuba also faced many difficulties.
However, during a meeting in Havana with the participation of tens of thousands of people, Fidel Castro stated that "unfortunately, we – Cuban people – do not have enough milk and sugar to send to Vietnamese people. If we have, we will send not only milk and sugar but also our blood".
The year 1976 was named "Heroic Vietnam Year" by Cuba as part of its support to Vietnam.
In 1972 when the dyke system in the northern of Vietnam was destroyed by the US enemy, Cuba took August 28 as the "Dyke Day" and launched a campaign to denounce the crimes of the imperialism.
The leader reaffirmed that "our solidarity with, our trust in Vietnamese people and leaders is unconditional and absolute."
In September 1973, Fidel Castro was the first and only foreign leader to visit the southern liberation area of Vietnam when the war was ongoing, bringing a great encouragement to Vietnamese soldiers and people and a promise to help realise President Ho Chi Minh's wish to build a more prosperous country.
This showed the special sentiments of him and Cuban people towards Vietnam and its national liberation.
During hardest period of the anti-US revolution, Fidel's saying "Cuba is willing to devote blood for Vietnam" melt the hearts of Vietnamese and Cuban people as well as peace-lovers around the world.
The Cuban leader and people considered Vietnam's struggle as their own.
Also in his first visit to Vietnam, Fidel Castro presented Vietnam with five important socio-economic works: Thang Loi Hotel in Hanoi, Vietnam-Cuba Hospital in Quang Binh, Xuan Mai Road, Ba Vi cow breeding farm, and a Luong My chicken factory.
He also gifted Vietnam cow and chicken breed, along with more than 6 million USD for buying modern production equipment.
At the same time, Cuba also sent experts to Vietnam to join the construction of Ho Chi Minh Trail and train more than 1,000 Vietnamese university students and post-graduates.
Cuba also supported Vietnam in joining the United Nations.
Fidel Castro's next visits to Vietnam were in December 1995 and February 2003, during which the friendship and cooperation between the two countries witnessed new development milestones.
Through the visits, the Cuban leader always affirmed that Cuba sees Vietnam as its close brother and friend, and the solidarity, friendship and comprehensive partnership between the two countries will continue to thrive.
Despite the long distance, the warm sentiments and faithful friendship that Fidel Castro given to Vietnam will stay forever in the hearts of generations of Vietnamese people.
For them, Fidel Castro is always a great friend./.
VNA
Link:
http://en.vietnamplus.vn/fidel-castro-great-friend-of-vietnam/103266.vnp