Brazil's Rousseff ousted by Senate, Temer sworn in
Brazil's Senate ousted President Dilma Rousseff on Wednesday, ending an impeachment process that polarised Latin America's biggest country amid a massive corruption scandal and brutal economic crisis.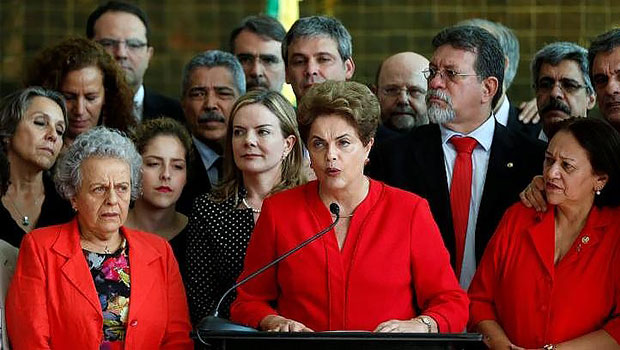 Brazil's former President Dilma Rousseff (C), who was removed by the Brazilian Senate from office earlier, speaks at the Alvorada Palace in Brasilia, Brazil, August 31, 2016.
Senators voted 61-20 to convict the country's first female president for illegally using money from state banks to bankroll public spending, marking the end of 13 years of leftist Workers Party rule.
Rousseff's opponents hailed her removal as paving the way for a change of fortunes for Brazil.
Her conservative successor, Michel Temer, the former vice president who has run Brazil since her suspension in May, inherits a bitterly divided nation with voters in no mood for the austerity measures needed to heal public finances.
In his first televised address to the nation after being sworn in as president through 2018, Temer called on Brazilians to unite behind him in working to rescue the economy from a fiscal crisis and over 11% unemployment./.
Reuters
http://en.nhandan.com.vn/world/item/4589202-brazil-s-rousseff-ousted-by-senate-temer-sworn-in.html