The World Health Organisation (WHO) has recognised Vietnam's vaccine management system as an internationally standardised one and is expected to officially present a certificate to Vietnam on June 22.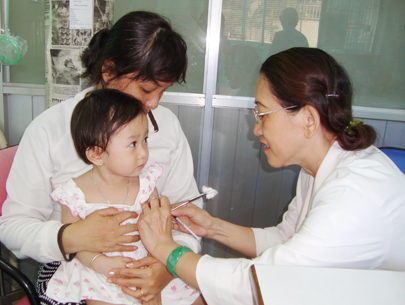 Truong Quoc Cuong, Director of the Ministry of Health's Drug Administration of Vietnam (DAV), shared the news at a press conference on June 19.
Cuong said the recognition demonstrated that made-in-Vietnam vaccines were on par with those available around the world. It would also open a window of opportunity for the country's vaccine industry to grow towards export activities.
Vietnam makes 10 out of the 12 vaccines used in the national vaccination programme, which provides vaccinations for 1.7 million newborns annually.
Domestic producers make vaccines for orders placed by the State and have their vaccines' selling prices fixed by the State. This explains why the price of domestically made vaccines is usually only one-third of what imported vaccines cost.
However, domestic vaccine makers enjoy preferential treatment from the State, such as bank loans with annual interest rates as low was 2 – 3 percent.
DAV Director Cuong told the press conference that the official upgrading of Vietnam's vaccine industry was a big step forward, promoting both domestic and export production.
Vietnam currently exports cholera vaccines to Timor-Leste, Hepatitis B to the Republic of Korea, Hepatitis C to the Philippines and the measles vaccine to Malaysia.
A number of international organisations, including UNICEF, have reportedly placed orders for vaccines from Vietnam.
The WHO's recognition is reviewed every three years.
Vietnamplus