Tuna export shows sign of recovery
Vietnam's tuna export value increased 10 percent in the first eight months of the year to 309.8 million USD, according to the Vietnam Association of Seafood Exporters and Producers (VASEP).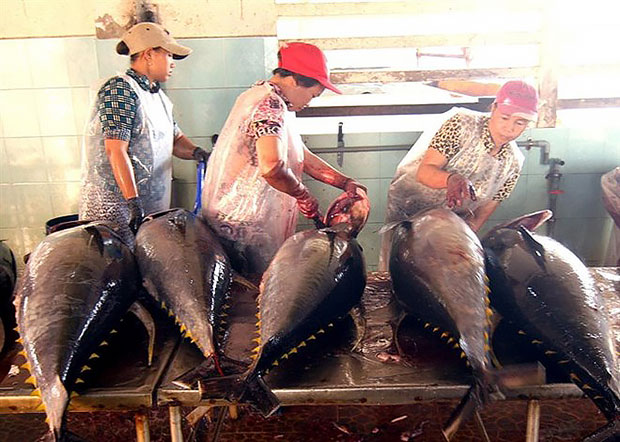 illustrative image (Source: VNA)
The comeback was driven by the recovery of import markets, improved fishing and preservation procedures and export businesses' efforts to expand markets.
Customs statistics showed exports of fresh/live/frozen tuna made up 180.7 million USD of total exports, up 9.5 percent over the same period last year, while exports of frozen tuna fillets and processed tuna were up 14.3 percent and 1 percent, respectively.
The exports went to 8 key markets, namely the US, EU, ASEAN, China, Israel, Japan, Canada and Mexico, occupying 88.2 percent of national tuna export value.
The association expects tuna exports will continue to increase in the final months of the year.
The US market is set to remain as the biggest importer of Vietnamese tuna.
ASEAN, China and Israel remain promising destinations for Vietnam's tuna, said the association.
According to the Ministry of Industry and Trade, there is still more room for Vietnam to boost tuna exports to these markets.
It suggested local firms focus more on improving steaming, drying and canning technologies to enhance exports of processed products.
They also need to exploit EU markets with high import demands such as Italy and Belgium following high growth in tuna exports to both countries in the past 8 months./.
VNA
Link:
http://en.vietnamplus.vn/tuna-export-shows-sign-of-recovery/101858.vnp