In the morning on June 23rd, Cantho city people's court in cooperation with Soc Trang city people's court organized a conference to draw experiences in judging affairs and briefly review emulation affairs in 2015 within the emulative group V (including 13 people's courts of South-western provinces and cities).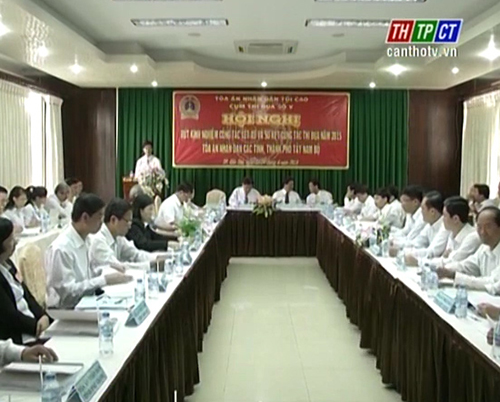 Mr. Tong Anh Hao, deputy tribunal president of the supreme people's court; Mr. Pham Van Hieu, chairman of Cantho city people's council; leader representatives of appellate court of the supreme people's court in Ho Chi Minh city, specialized courts of the supreme people's court and people's courts of Southwestern provinces and cities came to attend.
In the 1st 6 months of 2015, the emulative group V has handled more than 63,000 cases, increasing over 1,000 cases compared with the same period; of which, the solving of cases has obtained 64.22%. In terms of the quality of the solving of cases, the number of cancelled cases has reduced 42 cases, taking up 0.10%. Besides achievements, the people's courts in some provinces and cities of group V have still exposed some weak points.
At the conference, delegates reported difficulties in judging affairs and raised some suggestions. The conference took place in 2 days (June 22nd – 23rd).
Translated by Thanh Dung