About 400 Khmer people in the Mekong Delta province of Tra Vinh attended a get-together on October 10 to celebrating their traditional Sene Dolta Festival, one of their largest festivals in a year.
According to the provincial Committee for Ethnic Affairs, over the past years, the local government has implemented numerous programmes to help Khmer people develop production and improve their spiritual and material life. Thanks to these efforts, the poverty rate among Khmer ethnic minorities dropped by 4 percent.
With VND46.8 billion (US$2.1 million) allocated to Tra Vinh from the Government's poverty reduction programme this year, the province has built and repaired 71 infrastructure works serving Khmer people's production and daily activities.
As many as 11,177 Khmer households have benefited from a land support programme, while 603 locals in the working age have been employed, according to the committee.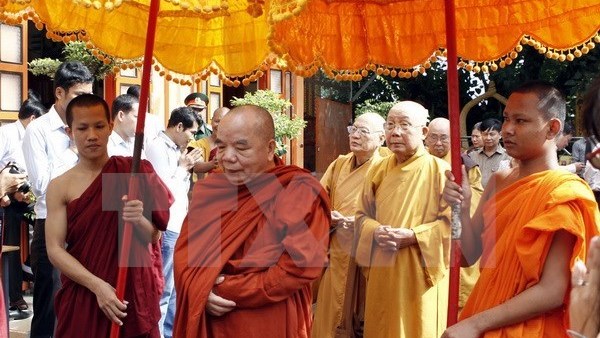 In addition, health care and education services in the province have been improved, with an increasing number of Khmer students attending schools at all levels. In the 2015-2016 academy year, more than 58,390 Khmer students entered high schools, accounting for 31.40% of the province's total learners.
At the event, many Khmer dignitaries pledged to continue encouraging Khmer people to promote solidarity and work hard to boost the local development.
On the occasion, the province presented gifts worth over VND400 million (US$18,020) to poor Khmer people.
Sene Dolta is one of the important annual festivals of the Khmer community in the southwest region, along with Chol Chnam Thmay (New Year) and Ooc Oom Bok, a festival to thank the Moon for good harvests.
It is held from the 30th day of the eighth lunar month to the second day of the ninth lunar month each year, which falls on October 12-14 this year, during which Khmer people pay tribute to their ancestors and take part in community celebration activities with traditional songs and dance after a hard working year.