HIV self-testing introduced in Vietnam
People who want to know their HIV status can now test themselves discreetly thanks to the HIV self-testing service that was launched in Vietnam for the first time on August 26.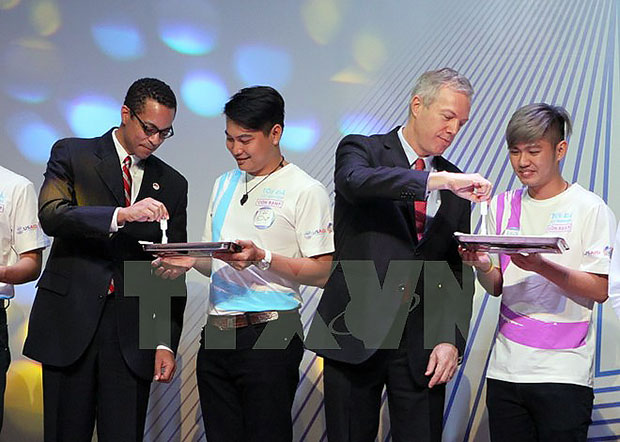 US Ambassador Ted Osius (second, right) tries HIV test kit (Source: VNA)
A simple test kit allows the user to obtain the test result after 20 minutes using saliva or blood sample. If the result is positive, the person should go to medical centres to take a confirmation test.
HIV home-testing has been piloted on 377 people since late May 2016, 7 percent of whom were positive to HIV and all of the infected people are under treatment.
Considered as simple and reliable, the service is expected to help raise the rate of HIV-testing among high-risk groups.
Nguyen Hoang Long, head of the Health Ministry's HIV/AIDS Prevention and Control Department, said HIV self-testing is a new step in enhancing public access to HIV-testing services, helping Vietnam reach its 90-90-90 target for HIV/AIDS prevention and control by 2020.
The UN's 90-90-90 Plan aims at: 90 percent of people living with HIV will know their status, 90 percent of people who know their status are on regular antiretroviral treatment and 90 percent of all people on treatment will have undetectable levels of HIV in their body (known as viral suppression) by 2020.
US Ambassador Ted Osius said everyone now can test their HIV status in private and safely.
HIV home-testing forms part of the Healthy Markets project funded by the US Government via the US Agency for International Development (USAID) and implemented by PATH, a non-governmental organisation operating in the field of health care.
The service has been added to national HIV/AIDS prevention and control programmes of 16 countries worldwide.
In Vietnam, about 1,000 HIV cases were detected in 2015, down from 18,000 in 2010. HIV-linked deaths also declined from 3,200 to 2,000 during the past five years./.
VNA
Link:
http://en.vietnamplus.vn/hiv-selftesting-introduced-in-vietnam/98227.vnp