FDI hits 3.4 billion USD in first two months
Foreign direct investment (FDI) in Vietnam reached 3.4 billion USD in the first two months of the year, up 21.5 percent, compared to the same period last year, the Foreign Investment Agency's latest statistics has revealed.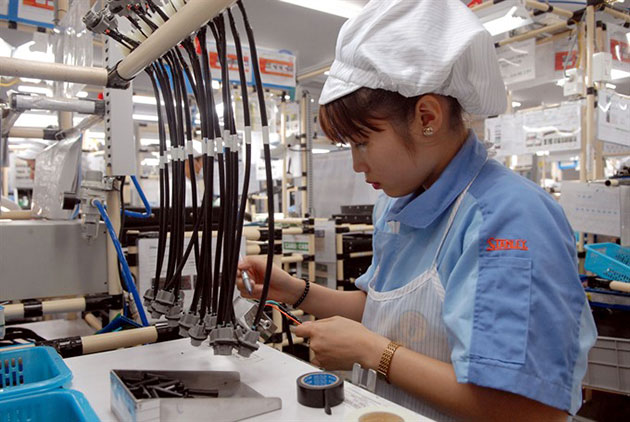 A worker at the Hanoi-based Vietnam Stanley Electric Co Ltd, a joint venture with Japan. (Photo: VNA)
Up to 313 new foreign-invested projects, with a capital of more than 2 billion USD, received licences during the period, up 6.5 percent year-on-year.
Meanwhile, 137 existing projects received approvals to expand their capital by an additional 760 million USD in total, equal to 84.5 percent of the same period in 2016.
In the period between January and February, foreign investors channelled a total of 619 million USD into local businesses by purchasing their stocks, four times higher than last year's figures for the corresponding period, according to the data.
The period also saw a slight increase in FDI disbursement at 1.55 billion USD.
FDI capital was poured into 18 industries and sectors in two months.
The manufacturing and processing industry remained the most attractive area to foreign investors, followed by the real estate, wholesale, and retail sales.
Singapore remained Vietnam's largest source of FDI with 881.6 million USD, accounting for 25.8 percent of the nation's total FDI.
China and the Republic of Korea ranked second and third with 721 million USD and 637 million USD, respectively.
Up to 47 localities nation-wide received FDI in two months.
Of them, southern Binh Duong province took the lead with 791 million USD or 23.2 percent of the total FDI registered in the country.
It was followed by the capital city with 519 million USD and southern economic hub of HCM City with 464.2 million USD.
Among large-scale foreign-invested projects during the period were a 285 million-USD Vietnam-Singapore Industrial Park 3, being developed in Binh Duong and a China-invested polyester and fiber manufacturing plant in Tay Ninh province worth 220 million USD./.
VNA
Link:
http://en.vietnamplus.vn/fdi-hits-34-billion-usd-in-first-two-months/107769.vnp