Visit and Offer Gifts to Policy Families in Cái Răng
On July 26th, Mr. Phạm Gia Túc, Vice Secretary of the city Party Committee and his accompany along with the City's Department of Labor, Invalids and Social Affairs, leaders of Cái Răng district People's Committee, boards, sectors and unions visit and offer gifts to policy families in Lê Bình and Ba Láng wards, Cái Răng district.
The gathering with policy families.
The delegation has a gathering with policy families in the 2 wards above and visits 6 other families to encourage and wish their health.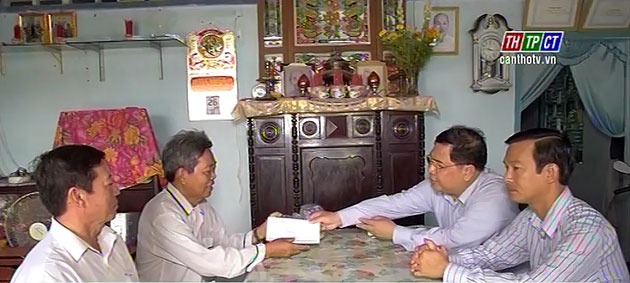 Mr. Phạm Gia Túc offered his gifts to a policy family.
At each destination, delegates inquire and acknowledge policy families' contribution and scarification for the national liberation and hope that they will promote revolutionary tradition and build prosperous country.
On this occasion, delegates offer 25 gifts, VND 500,000 each to families./.
Translated by Anh Vi