Coffee prices in Vietnam have reached the highest level in six years owing to the shortage of export-qualified beans after the harvest was hit by rains.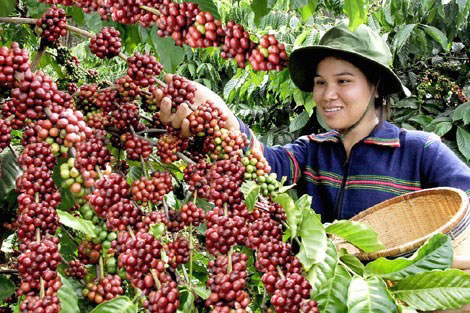 Illustrative image (Source: VNA)
The price is in the range of 46,500 VND (2.04 USD) per kilo of robusta beans in the Central Highlands province of Lam Dong, and 47,300 VND (2.08 USD) per kilo in Dak Lak province.
This is the highest level since September 16, 2011, when prices climbed to 47,400 VND per kilo.
First water shortage in dry season and then unseasonal rain in the Central Highlands from October to December last year has badly affected the 2016-17 crop harvest, both in terms of productivity and quality.
Vietnam's coffee output from the current crop has fallen by 11 percent against the previous season, the International Coffee Organisation has reported.
In 2016, 134,600 hectares of coffee trees in the region saw reduced output, while nearly 7,900 hectares of trees died or did not produce any coffee beans.
The Central Highlands region has 576,800 hectares of coffee trees, accounting for 89 percent of the country's total coffee cultivation.
Vietnam's coffee accounts for one-fifth of the world coffee beans output.
It is currently dry season in the Central Highlands, and water shortage is a big problem.
The Steering Committee for Central Highlands recently confirmed that water resources in the region will be able to supply sufficient water through irrigation projects, rivers, streams and wells to irrigate coffee cultivations until the end of the dry season./.
VNA
Link:
http://en.vietnamplus.vn/vietnams-coffee-price-highest-in-six-years/109236.vnp