Vietnam wins World Cup 3-cushion silver
Tran Quyet Chien finished in second place at the Guri Carom Billiards 3-Cushion World Cup in the Republic of Korea, which ended on September 4.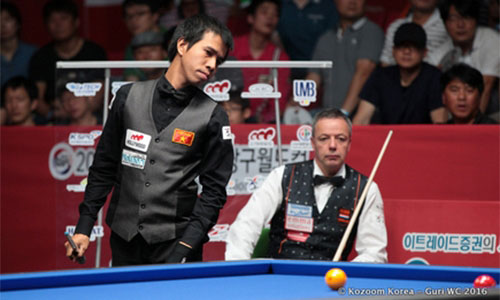 Tran Quyet Chien of Vietnam (left) seen during his Republic of Korea World Cup semi-finals. Chien grabs a silver trophy (Photo: baonghean.vn)
Chien lost 30-40 to Jeremy Bury of France in the 20-inning final match, and earned a silver trophy, as well as a 3,900 USD bonus from the organisers, and 320 million VND (14,200 USD) from Vietnamese sport bodies.
The Frenchman made it to the final with victories over Vietnamese Ma Xuan Cuong (40-11 in 15), Belgian Eddy Merckx (40-23 in 22), Spanish Javier Palazón (40-34 in 22) and Cho Myung-woo from the RoK (40-24 in 20).
Chien earned a spot in the final with wins over Lee Choong-bok of the RoK (40-30 in 25), Turkish Tayfun Tasdemir (40-21 in 14) and Swedish Torbjorn Blomdahl (40-40 in 18, shoot-outs 3-2) in the first knockout round.
Chien had his most recognised moments during the semi-finals over veteran Dick Jasper of the Netherlands (40-24 in 23).
Jasper has always been an arch-rival to every Vietnamese cueist. Before the semis, the Dutchman believed he would earn a berth in the final match, claiming he has never lost to a Vietnamese player.
"In the recent HCM City World Cup, he defeated four athletes of the hosts in a row. This was the revenge for all the Vietnamese and a catharsis for our billiards," said Chien, still shaken from his winning performance in the semi-final.
In the Guri final, Chien quickly lost the initiative 15-9 after a run of 10 by Bury in the second inning. Bury improved on his lead after the break, but Chien recovered with a run of nine to make the score 31-27. In the home stretch though, Bury would not be denied.
However, Chien successfully won 40-24 and became one of two finalists, which was the highest result for the country in nine years.
In 2007, Vietnamese Tran Chi Thanh also entered the final and earned a silver cup.
The silver trophy elevated Chien to No 10 in the world and No 1 in Asia, the highest ranking in his career./.
VNA
Link:
http://en.vietnamplus.vn/vietnam-wins-world-cup-3cushion-silver/98627.vnp