Vietnam, UK seek ways to boost coffee trade
Vietnamese and British coffee enterprises are keen on promoting doing business together, Vietnam Coffee and Cocoa Association (VICOFA) Chairman Luong Van Tu told a Vietnam News Agency correspondent at a roundtable discussion about coffee business in London.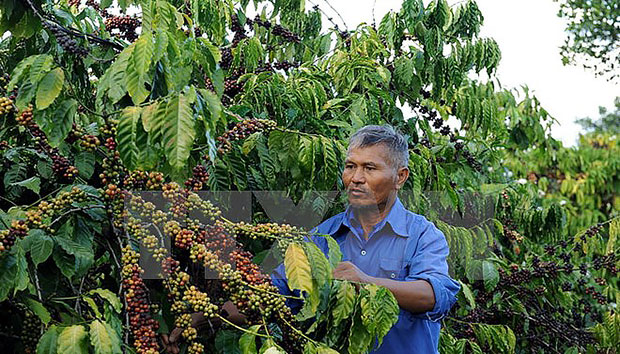 A farmer works at a coffee plantation in the Central Highlands province of Kon Tum (Photo: VNA)
The seminar, jointly held by the Vietnam Coffee and Cocoa Association (VICOFA), British Coffee Association and the Embassy of Vietnam in the UK, aims to boost coffee trade between the two countries.
Participants discussed measures to develop and promote coffee production standards in line with the principles of sustainable development.
They also talked about the qualities of coffees, on how export supply chains are organised in producing countries such as Vietnam.
At the seminar, Vietnamese Ambassador to the UK Nguyen Van Thao pledged his strong support to facilitate Vietnam market access to UK enterprises.
While Deputy Minister of Agriculture and Rural Development Le Quoc Doanh said Vietnam encouraged foreign investors to pour capital into agriculture including coffee processing technology.
Vietnam is the biggest coffee producer in Asia and the world's second largest one after Brazil.
Every year, Vietnam exports around 90 percent of its production with the volume of around 1.3 million tonnes, earning over 3 billion USD.
In recent years, Vietnam has been increasing exporting processed coffee: roasted, ground, and 3 in 1.
The Vietnamese coffee industry is focusing more on processing instant coffee, which generates higher profits for the national coffee sector.
The domestic consumption is also increasing rapidly. In 2015, Vietnam had 17,300 coffee shops nationwide.
There are coffee shop chains such as Highland Coffee, Trung Nguyen, Me Trang and Vinacafe. The Starbuck chain develops very fast in Vietnam.
In 2015, the bilateral trade turnover between the UK and Vietnam reached 5.4 billion USD, an increase of 25 percent against the previous year.
The UK investment in Vietnam valued 4.7 billion USD, ranking at second among EU investors.
Vietnam export turnover to the UK has been increasing average of 20 percent every year.
The main export products include seafood, vegetable, fruits, cashew, coffee, tea, pepper, rubber, garment and textile, shoes.
In term of coffee, the UK is always in the top ten biggest coffee importing market of Vietnam.
In 2015, the UK imported about 32,000 tonnes worth of 65 million USD./.
VNA
Link:
http://en.vietnamplus.vn/vietnam-uk-seek-ways-to-boost-coffee-trade/99366.vnp