Vietnam, Sweden to promote parliamentary ties to new level
Vietnam's National Assembly Chairwoman Nguyen Thi Kim Ngan and Speaker of the Swedish parliament Urban Ahlin agreed to enhance their countries' parliamentary relations during talks in Stockholm on April 6.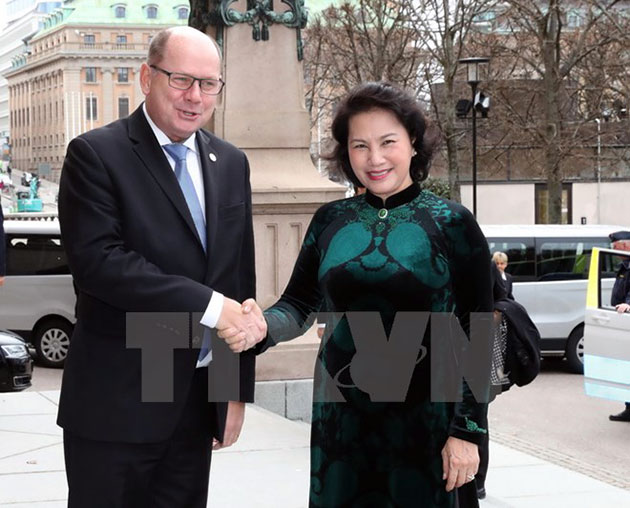 Speaker of the Swedish parliament Urban Ahlin (L) welcomes National Assembly Chairwoman Nguyen Thi Kim Ngan (Photo: VNA)
At talks following a welcoming ceremony, Chairwoman Ngan said Vietnam and Sweden boast a traditional friendship and multifaceted cooperation.
With the help of the European nation, projects like the Vietnam National Hospital of Pediatrics in Hanoi, the Vietnam-Sweden Hospital in Quang Ninh province and the Bai Bang paper factory in Phu Tho province have become symbols of Sweden's support and the two countries' amity, she noted.
She congratulated Sweden on its election as a non-permanent member of the United Nations Security Council for 2017-2018, voicing her belief that the country will contribute to promoting peace, security and adherence to international law.
She asked Sweden to support Vietnam's candidacy for a seat on the UN Security Council for 2020-2021.
The top Vietnamese legislator also asked Sweden to urge the European Union (EU) to ratify the EU-Vietnam Free Trade Agreement (EVFTA) and recognise her country's market economy, helping the two countries' businesses to expand partnerships.
As Sweden has a strong judicial sector, she called on its parliament to share experience in making laws and supervising state agencies' activities with its Vietnamese counterpart.
For his part, Speaker Urban Ahlin said the official visit by Chairwoman Ngan will open up new prospects for bilateral ties as well as inter-regional and international cooperation.
He noted with satisfaction progress in bilateral cooperation, especially in economy, trade, investment, transport and health care. The parliaments' relations have also improved.
At the talks, the two sides agreed that Vietnam and Sweden need to bring their trade and investment relations on par with potential.
They hoped that parliamentary connections will be reinforced through increasing supervising and implementing the two Governments' cooperation agreements and projects. The legislatures will support the Vietnamese and Swedish Governments, localities, enterprises and peoples to enhance exchanges, development cooperation and environmental protection.
The early signing and ratification of the EVFTA will benefit all parties involved and help foster trade between Vietnam and the EU, including Sweden, the officials said.
Ahlin affirmed that he supports the EU's early signing and ratification of the deal.
On this occasion, they also discussed gender equality, women's role in society and fighting corruption.
The Swedish speaker said his country is experienced in lawmaking and is ready to share its expertise in supervising state agencies' activities, building smart cities, protecting the environment and reducing greenhouse gas emissions.
Also on April 6, National Assembly Chairwoman Ngan visited the Swedish parliament and attended a banquet hosted by Speaker Ahlin./.
VNA
Link:
http://en.vietnamplus.vn/vietnam-sweden-to-promote-parliamentary-ties-to-new-level/109862.vnp