Vietnam successfully marks 1,400 organ transplants
Vietnam has successfully performed nearly 1,400 organ transplant surgeries over the past 20 years, said Le Quang Cuong, Deputy Minister of Health.
The figure was released on November 17 during a television broadcast co-organised by the Ministry of Health and Vietnam Television to explain the need for organ donations to save lives.
Cuong said that Vietnam successfully performed more than 1,280 kidney transplants, as well as liver, heart and bone marrow transplants.
But the number of organ transplants carried out over the years was still too little compared to the existing potential of the country's medical sector, he said.
"In fact, the country's organ transplant capability has now caught up with countries that have modern medicine and contributed to integration of the medical sector with other countries in the region and the world," Cuong said.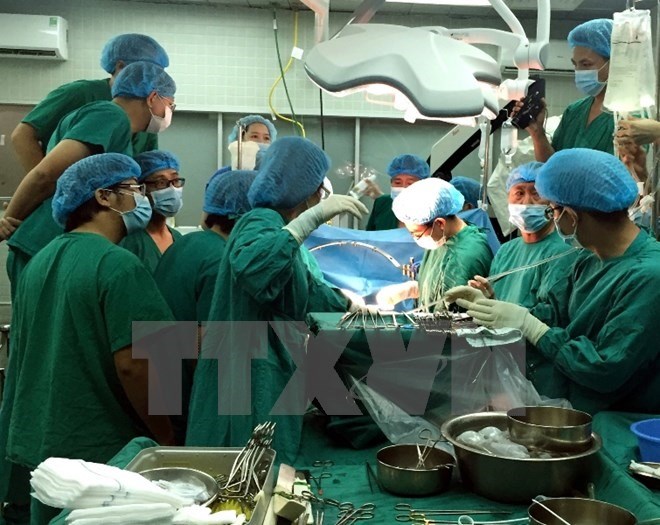 A kidney transplant operation is performed at Viet Duc Hospital (Photo: VNA)
Organ transplant surgeries are one of the outstanding achievements of Vietnamese medicine, according to him.
Transplant operations now can be carried out at 17 hospitals throughout the country.
The success of organ transplants in Vietnam has brought hope to patients who suffer terminal organ failure, while it has helped speed the development of other medical branches.
However, the country's transplant industry is facing a severe shortage of organ donors, even as the demand is enormous and rising rapidly.
Meanwhile, in many cases of brain-dead people, traffic accidents and other deaths, organs have not been donated to heal the sick.
The television event also sought to raise public awareness about organ donations and calls upon the community to donate kidneys to save lives.
VNA