Vietnam seeks all-round cooperation with South Africa
Vietnam regards South Africa as its leading partner in Africa and wishes to develop all-round cooperation with the country on par with the "partnership for cooperation and development", President Tran Dai Quang said.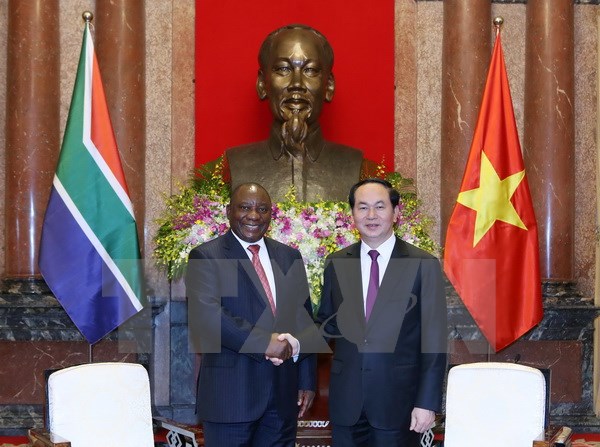 President Tran Dai Quang (R) and South African Vice President Cyril Ramaphosa.
(Source: VNA)
He expressed the view at a reception for visiting South African Vice President Cyril Ramaphosa in Hanoi on October 4.
He called on South Africa to continue backing the candidacy of the Vietnamese Ambassador and the President's Special Envoy for the post of UNESCO General Director for 2017-2021, as well as the country's efforts to run for a non-permanent seat at the UN Security Council during the 2020-2021 tenure.
The host suggested the African country share its experience in joining the UN peace-keeping operations, transfer technologies in areas of its strength and continue teaching English for Vietnamese officials.
President Quang noted his hope that the two countries will enhance their collaboration in managing and exploiting sea resources.
He urged South African businesses to send more teams to research the market in Vietnam as the country now hosts only three South African firms.
In reply, Vice President Cyril Ramaphosa stressed that his visit to Vietnam aims to strengthen and expand the bilateral partnership for cooperation and development.
He informed host about the outcomes of his talks with Vice President Dang Thi Ngoc Thinh, saying the two sides agreed to forge affiliation between the Communist Party of Vietnam and the African National Congress (ANC).
The guest also talked about his tour of the northern port city of Hai Phong the same day, where he suggested Vietnam assist his country in shipbuilding, maritime transportation and aquaculture.
South Africa will continue its support for Vietnam at international forums, especially at the UN, he stated./.
VNA
Link:
http://en.vietnamplus.vn/vietnam-seeks-allround-cooperation-with-south-africa/99999.vnp