"Vietnam Pieta" statue unveiled on Jeju Island
A bronze statue named "Vietnam Pieta" was unveiled at the St. Francis Peace Centre on Jeju Island, the Republic of Korea, on April 26 as a sincere apology to Vietnamese people for what Korean soldiers did during wartime.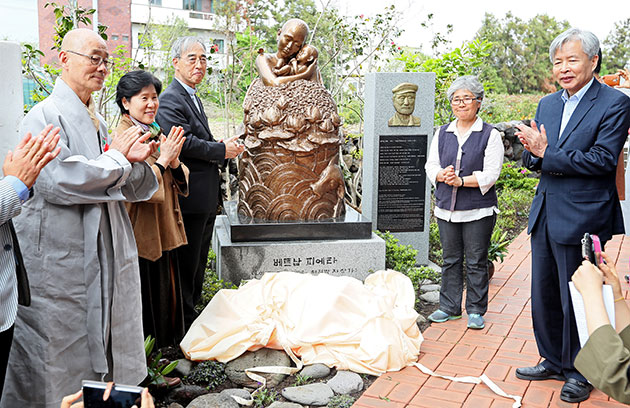 Vietnam Pieta statue is unveiled on Jeju Island on April 26 (Photo: VNA)
The inauguration ceremony, organised by the Korean-Vietnamese Peace Foundation, drew an audience of more than 100, including religious dignitaries of the RoK.
Chairman of the foundation Gang Woo-il said although the war in Vietnam ended 42 years ago, the RoK must find out the truth about the massacres of innocent civilians by Korean soldiers who fought in the war.
He said the RoK needs to do penance and send an apology to the Vietnamese people.
Vietnam Pieta statue depicts a woman embracing her baby.
It is meant to comfort the souls of mothers and newborn babies killed in massacres by Korean soldiers.
It was created by sculptors Kim Seo Kyung and Kim Eun Sung, who want to convey a sincere repentance to the Vietnamese people through this work./.
VNA
Link:
http://en.vietnamplus.vn/vietnam-pieta-statue-unveiled-on-jeju-island/110867.vnp