Vietnam doctor attends international cancer congress
Bui Chi Bao, a lecturer at the University of Medicine and Pharmacy in Ho Chi Minh City, is participating in an international congress on cancer in the Australian State of Queensland from June 19-23.
Bao is the only Vietnamese representative to engage in the event for the first time.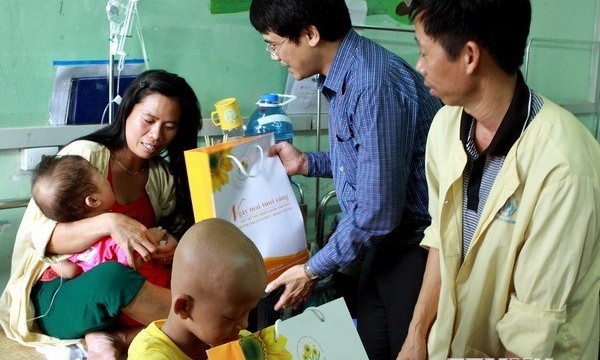 Child cancer patients receive gift packages (Photo:VNA)
He delivered two reports on the classification of neuroblastoma cancer among children and the role of epigenetic factors in cancer development and proper treatment.
The biennial congress, the 16th of its kind, was held by the International Advances in Neuroblastoma Research Association.
As many as 400 delegates, including doctors and scientists, from 28 countries got involved in the event to share new studies on cancer therapies for children, contributing to the global cancer prevention strategy.
The first event took place in the US State of Philadelphia in 1975.
Neuroblastoma is a common type of cancer in infants. Children diagnosed with the disease are usually younger than five years old, and most new cases occur in babies younger than 1 year old.-VNA.
SGGP