After taking necessary measures, Chinese oil and gas exploration ship Wan Hai 517 got out of Vietnam's territorial waters since June 8.
On June 11, the Foreign Ministry hosted a regular press conference during which Foreign Ministry spokesperson Le Hai Binh briefed on Vietnam's external activities and responded to questions of pubic concern.
In reply to reporters' questions regarding the Group of Seven (G7) adopting a communiqué expressing concern over current tensions in the East Sea, Binh said the situation there has caused serious concern for the international community and has not helped maintain regional peace and stability in the region.
He added that Vietnam welcomes and supports all constructive and responsible contributions by countries inside and outside the region to this process.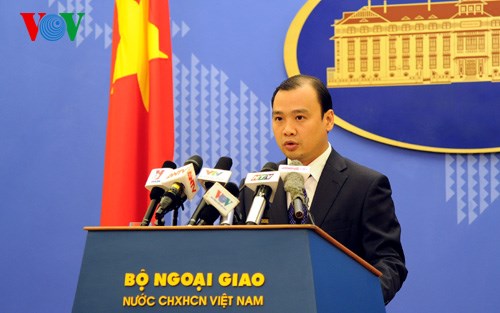 The official also clarified the nation's view on the Chinese ship,Wan Hai 517 entering Vietnamese waters and sailing through areas where Vietnam's oil drilling rigs were operating, before heading to the Gulf of Thailand.
Binh said Vietnamese competent agencies had conducted the necessary measures and the ship moved out of Vietnam's territorial waters on June 8.
Regarding the spread of the Middle East Respiratory Syndrome (MERS) in the Republic of Korea (RoK) and the situation for Vietnamese citizens there, Binh said, "The Vietnam Ministry of Foreign Affairs and Vietnam's diplomatic corps abroad have recommended Vietnamese nationals to restrict traveling to the disease-affected areas and take preventative measures. No cases of Vietnamese people or foreigners in Vietnam have been recorded to contract with the deadly disease. But we are keeping a close watch on developments to take timely steps."
Also at the conference, Binh also said that the third meeting of the Vietnam-South Africa inter-governmental partnership forum is scheduled to take place in Hanoi next week.
VOV