Vietnam-Cambodia diplomatic ties marked in Can Tho
A ceremony was held in the Mekong Delta city of Can Tho city on June 20 to mark the 50th anniversary of the Vietnam-Cambodia diplomatic ties (June 24, 1967).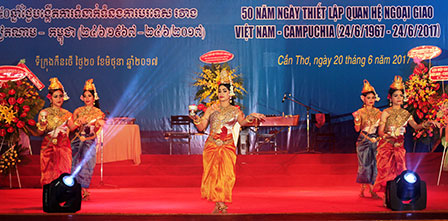 An art performance at the ceremony to mark the 50th anniversary of the Vietnam-Cambodia diplomatic ties (Source: baocantho.com.vn)
The event, co-organised by the municipal People's Committee, the Department of External Affairs and Can Tho University, saw the participation of city leaders, representatives of departments and agencies, and more than 1,000 students.
In his remarks, Vice Chairman of the municipal People's Committee Truong Quang Hoai Nam said with the motto of "good neighbourliness, traditional friendship, and sustainable long-term comprehensive cooperation," the Vietnamese and Cambodian Governments have deepened the bilateral cooperation across fields, bringing pragmatic benefits to their people.
The Party, authorities and people of Can Tho have always given attention and special sentiments to Cambodian land and people, through a range of practical activities involving education, economy and health care, he said.
Can Tho has helped 50 Cambodian students in the locality with health insurance, study tools and part of tuition fees.
Nam also highlighted a programme to provide free health check-ups, medicines and gifts for Cambodian patients, benefiting more than 20,000 Cambodians.
Economically, Can Tho inked a cooperation agreement and established twin ties with Kompong Chahnang and Battampang provinces of Cambodia to promote affiliation in industry, agriculture, tourism and services, he added.
Can Tho will continue to consolidate and expand long-term cooperation with more Cambodian localities, the official affirmed.
A representative from the Cambodian Defence Ministry stressed that the Cambodian authorities and people always consider the time-honoured friendship and solidarity with Vietnam an important external factor in the country's international relations.
He suggested the two countries' competent agencies intensify the operation of the Vietnam-Cambodia Committee on Economic, Cultural, Scientific and Technological Cooperation and conferences on cooperation between border provinces.
Focus will be put on on boosting comprehensive cooperation with Can Tho which is expected to be a long-term strategic partner of Cambodia in various fields, especially in the protection and sustainable use of the Mekong River water resources, he said./.
VNA
Link:
http://en.vietnamplus.vn/vietnamcambodia-diplomatic-ties-marked-in-can-tho/113626.vnp