Vietnam Airlines bans Galaxy Note 7
Vietnam Airlines has banned transporting Samsung Galaxy Note7 phones on its flights, including carry-on luggage and shipments, the airline announced on October 17.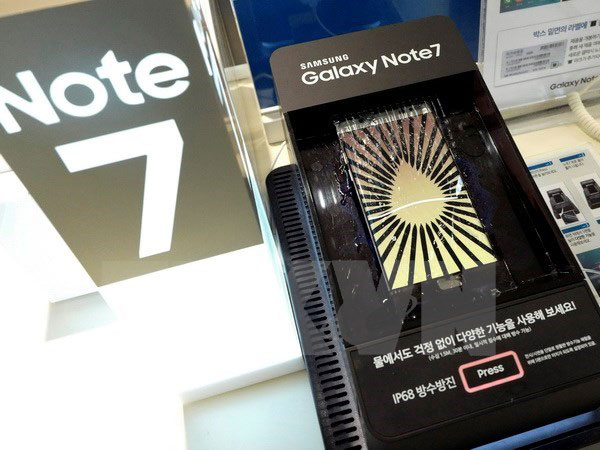 Samsung Galaxy Note 7 at a store in Seoul, the Republic of Korea (Photo: EPA/VNA)
On September 11, the national flag carrier banned the smartphone, whose faulty battery has caused overheating and can explode, from checked baggage.
It also stopped providing charging services for the phones on flights in line with a directive of the Civil Aviation Authority of Vietnam.
Aside from Vietnam Airlines, many airlines around the world have banned Galaxy Note7s on their flights, including Singapore Airlines, Air Berlin, Virgin Australia, EgyptAir, Qantas, and Jetstar.
On October 11, Samsung decided to stop selling all Galaxy Note7s around the world and continued recalling the sold phones, including the revised model.
Explosions caused by flawed battery have been reported since the Galaxy Note7 debuted several months ago. Similar battery fires have also been recorded on the replaced Note7 model.
Meanwhile, Samsung Electro-Mechanics Vietnam Co Ltd (SEMV) started a recall, renew and exchange programme of all Galaxy Note 7 models from October 18 until November 18.
For customers to benefit from the recall programme, their purchase must be an official and operational Samsung Galaxy Note 7 model, assembled and distributed in the Vietnamese market.
Customers must bring their Samsung Galaxy Note 7 or a promissory note for those who are waiting for a renewed product, together with a national identity card or a valid passport to the nearest Samsung customer service centre to particpate in the programme.
The Vietnam Competition Authority (VCA), under the Ministry of Industry and Trade, advised customers to turn off their products and contact Samsung on the hotline 1800 58889 to return the products.
Out of the 12,633 Galaxy Note 7 models sold in Vietnam, over 8,000 had been recalled by October 17, as stated in the VCA's press release./.
VNA
Link:
http://en.vietnamplus.vn/vietnam-airlines-bans-galaxy-note7/100758.vnp