As celebrations for the launch of Vietjet's new routes in September, the new-age carrier is offering 600,000 promotional tickets priced at zero dollars from September 13 to 15.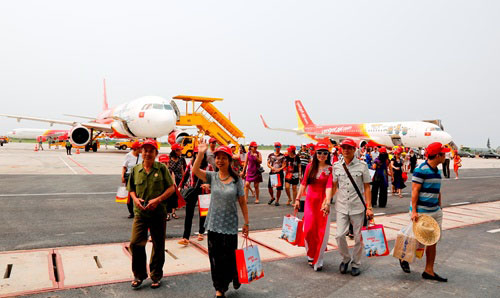 Vietjet passengers get off a plane at Noi Bai Airport. (Source: Vietjet)
Under the "12pm, It's time to Vietjet" campaign, the discounted airfares are applicable on all Vietjet's domestic and international flights from the country to Kaohsiung, Taipei, Tainan and Seoul, as well as Singapore, Bangkok, Kuala Lumpur and Yangon.
The travel period will be from October 1 to March 31, 2017, which is the most convenient and favoured travel time of the year, and the 600,000 promotional tickets will benefit locals and tourists.
During the two-day event, Vietjet set up its own booth to promote its brand and provide visitors opportunities to win surprising gifts.
Visitors to the airline's booth enjoyed the opportunity to download the "VIETJET FLY" game application on their mobile phones and play fun games to win promotion codes for Vietjet flight tickets (Ha n oi-Seoul and HCM City-Seoul) with discounts of 30 percent, 50 percent and 100 percent.
The HCM City-Seoul flight operates on a daily basis with a flight time of five hours 15 minutes per leg.
The flight takes off from HCM City at 2.30am and lands in the Republic of Korea at 9.40am (local time). The return flight departs at 11.40am and arrives in HCM City at 3.10pm (local time).
Meanwhile, the Ha n oi-Seoul has a flight time of four hours 45 minutes per leg. The flight takes off from Ha Noi at 1.45am and lands in the Republic of Korea at 7.55am (local time). The return flight departs at 11.05am and arrives in Ha n oi at 2.10pm (local time).
Late last week, Vietjet participated in the "2016 Melody Forest Camp," which was held in Jaraseom, Gapyeong, Gyeonggi-do, the Republic of Korea./.
VNA
Link:
http://en.vietnamplus.vn/vietjet-sells-600000-promotional-tickets/98938.vnp