Category 10 tropical storm Kalmaegi made landfall in northern Quang Ninh and Hai Phong provinces on September 16 with sustained wind speeds in excess of 118km/h, uprooting big trees and ripping off house roofs.
The storm caused heavy rains throughout the districts of Tien Yen, Co To, Hai Ha and Dam Ha, uprooting trees, cutting power lines and damaging at least 147 buildings, submerging a large area of subsidiary crops.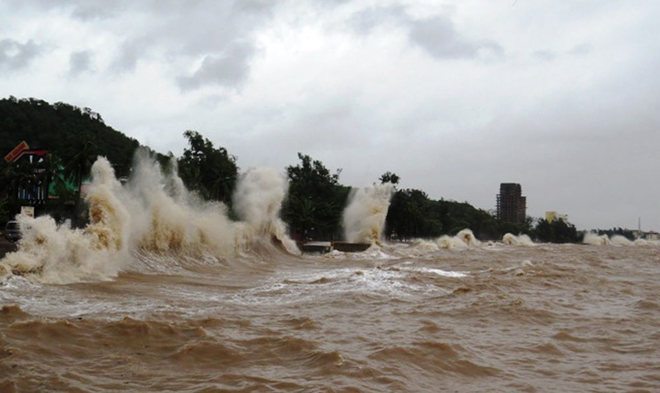 In Mong Cai City which is near the eye of the storm, power lines were incapacitated. Roofs were uplifted and torn from houses while many roads were completely flooded by heavy downpours.
No fatalities have been reported as of yet in the locality. However, many districts are scrambling to make emergency preparations for possible rising tides and flash floods as the storm intensifies.
Other districts continued to take urgent precautionary measures, evacuating households from dangerous areas, especially areas which pose a high risk of flash floods or landslides.
Meanwhile, with raging wind speeds in the 10-11 categories, the powerful storm is wreaking havoc the northern port city of Hai Phong, causing torrential rains and rising sea levels in Do Son.
A landslide in northern Lang Son province on September 17 killed six people and injured five others, according to the National Committee for Search and Rescue.
The landslide occurred in Dong Dang town in Lang Son province near the Xuan Cuong bus station.
Twelve soldiers and militiamen have been mobilized for search and rescue work.
At present, three people are in hospital listed in critical condition while two others have been discharged.
There has also been a landslide in Cao Loc district, causing a collapse of walls, leaving a five-year old dead and a 31-year old woman injured./.
VOV