These days, thousands of birds and storks are flocking to Vam Sat Ecological Tourist Center, making this natural site amidst Can Gio mangrove forests more exciting. The mangrove forests in Can Gio have been recognized by UNESCO as the world's biosphere reserve.
The Vam Sat bird sanctuary, 50 kilometers from HCMC, covers 602.5 hectares, including the core area of 162.2 hectares and the buffer zone of 476.3 hectares.
A majority of the trees are species growing on the higher land of the mangrove forests. The large buffer zone is an ideal venue for the development of birds in the future. To the north of the bird sanctuary are a 199-hectare natural forest and shrimp breeding farms.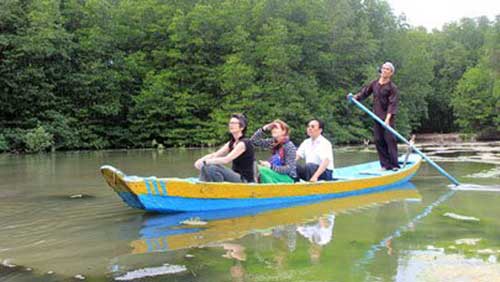 Vam Sat is home to 26 bird species, including 11 waterfowl species. Storks and night herons build their nests on thorny trees so that their "houses" will be safe from snakes and monkeys.
Birds often lay eggs in the rainy season, from May to October. But this year, they have flocked there since April. Young birds live on diverse food provided by the vast swamp land criss-crossed with rivulets and canals and surrounding shrimp farms.
Aside from the bird sanctuary, Vam Sat has a bat swamp which is in fact a bat shelter. Local tour guides will row small boats gently and lead guests across tranquilly bushy mangrove forests. These forests are home to thousands of fruit bats whose wingspans are sometimes one meter wide.
These bats live in the nature amidst the swamp embraced by mangrove forests. Tourists can take a sampan to weave through the forests to watch the huge bats, which can be found in Australia, Indonesia, Malaysia, Cambodia and Laos.
Adventurous visitors can take part in crocodile angling in Vam Sat Ecological Tourist Center where some 40 crocodiles are raised. Travelers canal so learn about habits of this large aquatic reptile.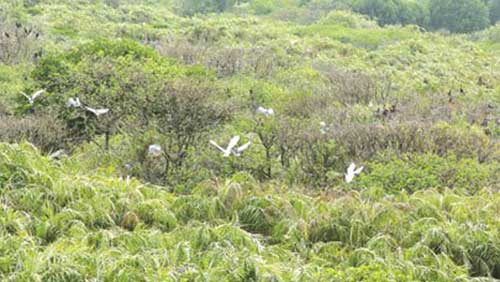 They can as well take part in the interesting game of "boating and crocodile angling." Composite boats are equipped with hollow compartments to keep balance, and are well protected with steel nets. Staff members will help tourists hook the bait to the fishing rod. Tourists can stand on the boat to feed ferocious crocodiles.Making sea salt with local farmers is another activity entertaining vacationers who want to have hands-on experience of salt production. Don't forget to plant a mangrove tree in the forests for the environmental protection campaign.
A large number of international visitors, especially young Japanese, together with Vietnamese students have taken part in planting green trees for the mangrove forests which are called the "green lungs" of HCMC.
Those who stay overnight at the center can join a trip in which they learn how to catch freshwater crabs in the river.
Vam Sat Ecological Tourist Center
Sub-area 15A, Ly Nho Commune, Can Gio District, Ho Chi Minh City
Tel: 38894008-38876169; email:kdlvamat@gmail.com.