The Shells Resort & Spa Phu Quoc wins awards
The Shells Resort & Spa Phu Quoc, invested by HCMC-based Tran Thai Group, has won Best Hotel Architecture Design, Best Hotel Interior Design and Best Hotel Development titles at the Vietnam Property Awards (VPA) 2015.
There were 20 prizes divided into four categories – design, project, investor and project of the year. In each category there was one winner among five candidates.
According to Terry Blackburn, CEO of Singapore-based Ensign Media, the organizer of VPA, this was the first time the event had been held in Vietnam but not the first time nominated names in Vietnam had been on the list.
"We have had chances to meet and judge many project developers in Vietnam. They have been to Singapore and other markets in the region to compete and receive prizes at some of the most important awards in the Asian property market," Blackburn added.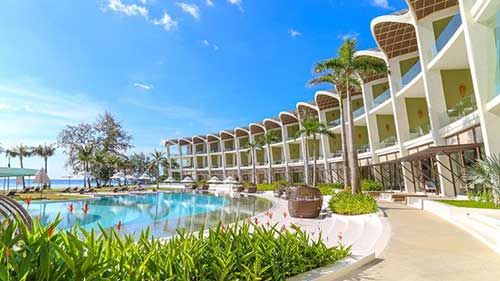 Le Nguyen Duy Nhan, deputy general director of Tran Thai Group, said, "We're honored to win three categories of the awards. It proves a great effort of the management and the investor, and it is a great encouragement for associates of The Shells Resort & Spa to develop the property as an ideal destination for local and international tourists."
The Shells Resort & Spa is located at Ganh Gio in Duong Dong Town on Phu Quoc Island off Kien Giang Province. It covers over 41 hectares with three different areas – forest reserve, villas and a service complex comprising hotel, Courtyard Villa and spa. Further information can be found at www.shellsresort.com.