On the morning of September 8th, at Vietnam and Korea Industrial and Technological Incubator Park, National Technology Renewal Fund opened scientific workshop on "Renewing technology to serve for rice production and processing in Mekong Delta region".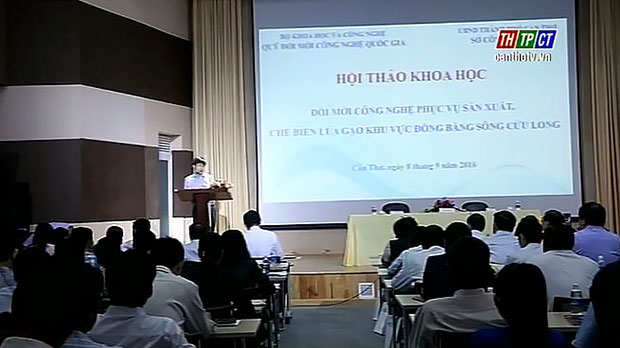 The Scientific Workshop "Technological Renovation Serving for Rice Production, Processing in Mekong Delta Region".
Mr. Trương Quang Hoài Nam – Vice Chairman of Cần Thơ city People's Committee and 150 delegates of institutes and enterprises in Mekong Delta joined in.
Technological renovation has contributed 35% of growth to the agricultural sector in the past time as evaluated at the workshop.
However, in the context of deeper and deeper, more increasing climate change, the agricultural sector in general and rice production in particular need to devise new renewal and development strategies with proper technological foundation to meet the demand for shifting from the wide to deep agriculture and to orient to production in sequences and raise added value.
The workshop focused on discussing issues on status-quo and requirements for technological renewal in the field of rice production in Mekong delta region, post- harvest solutions so as to contribute to the sustainable development of rice production, technological renewal, creative start- up in face with the sustainable development demand of series of rice.
On this occasion, the national technological renewal fund also introduced goals as well as operations of the fund with the aim to financially support for enterprises to renew their technologies./.
Kỳ Hương – Thanh Dung
Translated by Xuân Trang