6 speeches and 4 suggestions of delegates, who are scientists and artists, contribute to Scientific Workshop, titled "Literature and Art on the implementation of standards for Cần Thơ people, including intellectual, active, human, generous and elegant".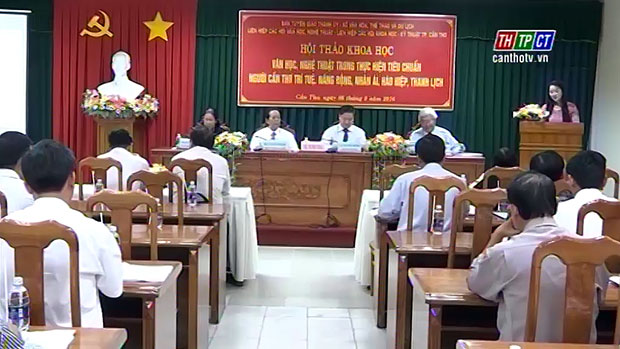 The Scientific Workshop "Literature and Arts in Meeting Criteria for Cần Thơ People".
The workshop took place in the morning on September 6th at the hall of the Party boards of Cần Thơ city Party Committee, held by the city Party Committee's Education and Propaganda Department.
Delegates discussed and pointed out many different opinions with the aim to orient the composition of literature, arts, contributing to disseminating, raising everybody's awareness of implementing the criteria for Cần Thơ people in conjunction with conditions and development demand of modern, civilized Cần Thơ city to deserve the role of the central city of Mekong Delta.
With different corners of views, speeches and opinions delivered at the workshop focused on clarifying roles of literature-arts in building new people while pointing out shortcomings in composing and proposing solutions to raise creativity and to widely advertise literature-arts works to readers in the most effective way./.
Lê Hiền
Translated by Xuân Trang