Nam Định province's Culture- Sports and Tourism department in the evening on Dec. 6th solemnly held the opening for the 7th national Sports games in 2014.
At the opening ceremony, the torch, burnt from Trần temple, was marched to Thiên Trường stadium by 7 eminent athletes including Hoàng Xuân Vinh, Thạch Kim Tuấn, Quách Thị Lan, Hoàng Quý Phước, Dương Thúy Vy, Nguyễn Thị Thất, Dương Văn Thái, presented to Minister of Culture- Sports and Tourism Hoàng Tuấn Anh and then was burnt on 54 other torches representing 54 brotherly minorities. Participating in this games are 7,687 athletes, including 3,250 female from 65 troops, competing in 36 sports in 9 localities including Nam Định, Hà Nội, Hà Nam, Thái Bình, Quảng Ninh, Hải Dương, Hải Phường in which Nam Định is chosen the official competition place with 13 sports. Expectedly, the organizing board will handle 743 sets of medals of gold, silver and bronze.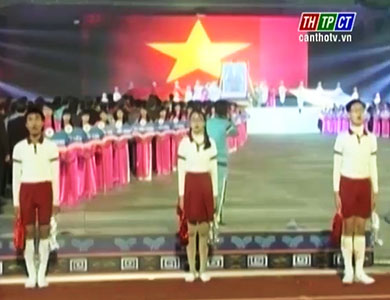 The troop from Cần Thơ alone has 181 athletes, competing in 19 sports with the goal of being in the top 10. The ritual part was followed by the arts performance programme which generally introduced typical cultural features of Nam Định via the traditional folk songs of Văn melody and other famous songs imbued with Nam Định features performed by 1,600 performers, music players from central Nam Định province arts troops and students which left good impression for viewers.
Translated by Xuân Trang