On the morning of August 31st, Bình Thủy district solemnly opened the 71st anniversary of August Revolution, National Day and entrusted Party Badges to senior Party members.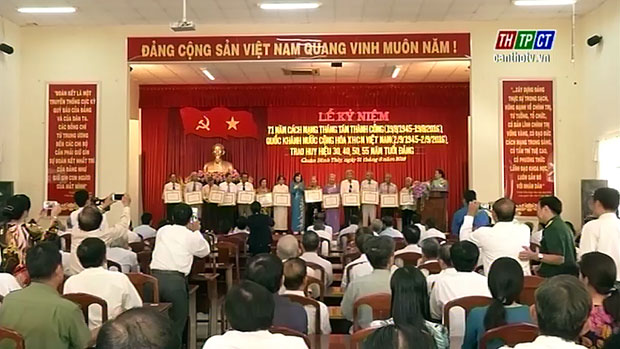 The Celebration on the 71st August Revolution, National Day and Presentation of Party Membership Badges.
Mr. Trần Việt Trường – Chief of Propaganda and Education department, Ms. Phan Thị Hồng Nhung – Chairwoman of Việt Nam Fatherland Front Committee came for attendance.
In the solemn atmosphere, delegates together recalled the nation's traditions in the August Revolution and the National Day.
Under the leadership of the Party and beloved uncle Hồ, our people have struggled to win back power, fully eradiated the feudalism and on September 2nd at Ba Đình square, president Hồ Chí Minh read the Independence declaration to found the Democratic People's Republic of Việt Nam.
On this occasion, Bình Thủy urban district presented the 30, 40 and 50 party membership badges to 50 senior party members.
Empowered by the state president, permanent member of the city Party committee – Head of the Publicity-Education Board under the city Party Committee Trần Việt Trường presented the 3rd Class Public Order to senior lieutenant-general Phạm Ngọc Hưng and secretary of Bình Thủy urban district party committee Lê Hoàng Nam handled the Army decoration for lieutenant- colonel Phạm Ngọc Dũng who has served in the armed force for 25 years in a row.
Earlier, the delegations of the People-Authority-Party bloc of Ninh Kiều, Bình Thủy and Phong Điền had paid tribute at Long Tuyền war martyrs' cemetery./.
Phương Ánh – Minh Đạt
Translated by Xuân Trang