In the morning of June 17th, Cantho city's Red Cross Society organized the 4th advanced characters' congress in 2015- 2020 phase with the aim to evaluate results of carrying out emulation movements in 2010- 2015 phase.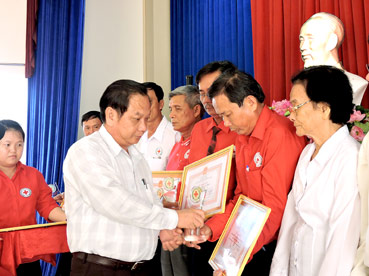 Standing vice secretary of Cantho city party committee Tran Quoc Trung, vice chairman of the city people's council Nguyen Thanh Son and leaders of Cantho city's Vietnam Fatherland Front committee and some departments, sectors of the city participated in this congress.
In the past 5 years, Red Cross societies at all levels in Cantho city have launched emulative movements suitable to their functions, tasks in conjunction with political tasks of their own localities. Thankfully, more and more programs, projects have been devised to give prompt support for underprivileged people.
In 2015- 2020 phase, Red Cross societies at all levels in Cantho city continues boosting patriotic emulation movements, priority given to 4 fields including prevention and control of natural calamities, social affairs, humanitarian blood donation and healthcare. Highly appreciating recorded outcomes, the standing vice secretary suggested red cross societies continue renewing operational models, boost emulative movements, build comprehensively strong societies while enhancing the publicity, operation of humanitarian activities.
On this occasion, 97 teams and individuals with excellent accomplishments were commended.
Translated by Xuan Trang