The 40th Founding Anniversary of Infantry Division 330
On the morning of September 21st, in Chi Lăng town, Tịnh Biên district, An Giang province, Infantry Division no.330 of Military Zone 9 solemnly celebrated the 40th founding anniversary of the Division, September 21st 1976 – September 21st 2016 and received the 2nd Class Fatherland Protection Medal.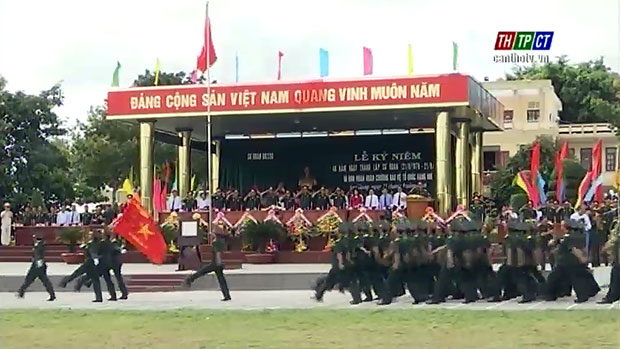 The 40th Founding Anniversary of the Infantry Division 330
Top-ranking General Phạm Văn Trà – Former Member of the Politburo, Former Minister of Defense, who is also Former Commander of Infantry Division no.330, members of the Party Committees, commanders and former commanders of High Command of Military Zone 9, heroic Vietnamese mothers, hero of the people's armed forces, army officers, who are former commanders of the Division, leaders of the Steering Committee for Southwestern Region, leaders of the city Party Committees,  People's Committees in provinces and cities joined in.
Earlier, Cần Thơ city's delegation led by Vice Secretary of Cần Thơ city party committee Phạm Gia Túc had come to offer congratulations and presented gifts to the party committee, steering board of the Division.
During the 2 resistance wars against France and America and during 12 years of doing international mission to help Cambodia, soldiers of the Division and the armed forces of the Military Zone 9 combated in thousands of battles, killed tens of thousands of enemies, excellently completed tasks entrusted by the Party and the State and have been praised the title of people's armed force hero and many other noble wards.
The heroic tradition of the Division has been continuously brought into play in the renewal process with many glorious attainments in the field of training, affectionate policy and public relation.
At the celebration, the Division was honorably presented the 2nd Fatherland Protection Medal and commended by Ministry of Defense./.
Thanh Các – Lương Thiện
Translated by Xuân Trang