In the morning of August 9th, Cần Thơ city's steering board for criminal control or the steering board 138 joined the online meeting of the governmental steering board 138 chaired by Deputy Prime Minister – Head of the steering board Trương Hòa Bình.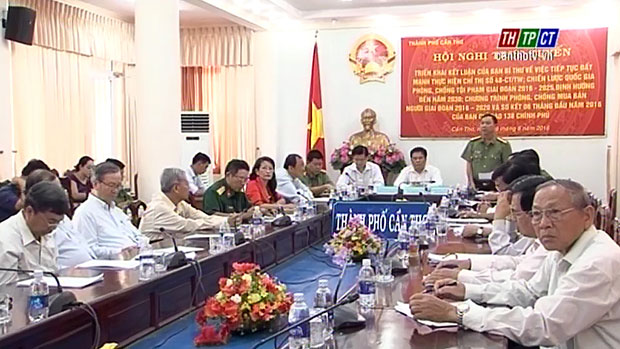 Teleconference of Steering Board No.138.
Attending the meeting in Cần Thơ city were vice chief of the steering board for the Southwestern region Sơn Minh Thắng and members of Cần Thơ city's steering board 138.
At the teleconference, the Steering Board no.138 of the Government carries out conclusions of the Secretariat Committee on promoting and implementing Directive no.48 – CT/TW of the Politburo, the 10th tenure on enhancing direction of the Party for crime prevention in new situation.
Through that, over the past few years, executive committees at all levels made efforts in leading and direction; awareness of officials, Party members and people for the crime prevention were improved.
Regarding results of implementing Directive no.48 in the first 6 months of 2016, public security nationwide inspected and discovered more than 21,000 criminal cases, over 9,000 economic violations.
Discussing at the teleconference, representatives of the Steering Board no.138 agrees with gained results of the Steering Board no.138.
Regarding situations in remaining months of this year, Chief of the Steering Board no.138 directs ministries, sectors, localities to enhance and renew propaganda on crime prevention./.
Kim Phụng – Quang Lợi
Translated by Phương Đài