Tariffs cut for Japanese imports
Vietnam's new import tariff, part of the Vietnam-Japan Economic Partnership Agreement (VJEPA) for 2016-19, has come into force.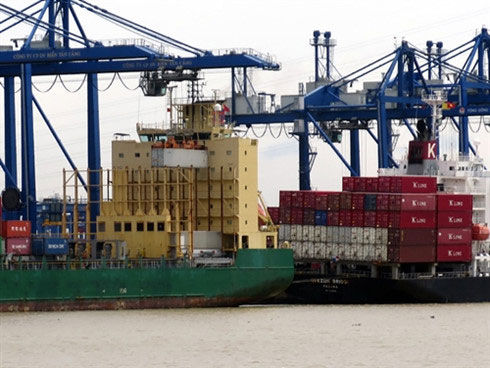 Illustrative image (Source: VNA).
Decree No 125/2016/ND-CP, which was issued on September 1 and came into effect the same day, states that the tariff is to be applied for goods directly transported from Japan into Vietnam.
Accordingly, the duty for lip and eye make-up products of Japanese exporters will fall from 11 percent to 4 percent by the end of March 2019.
The duty will decline from 4-7 percent to 1-3 percent for shampoo and from 8-15 percent to 3-11 percent for toothpaste.
Tax rates for clothes and accessories for children will be cut from 5.5 percent to 2 percent and the rates for blanket, bedspreads and table covers will decline to 1 percent from 3 percent.
Several goods such as vitamin, weed killers and emergency aid toolkits will continue to enjoy a zero percent import tax rate.
Special treatment is also given to Vietnam, in case goods listed under the tariff are imported from non-tariff zones into the domestic market.
Goods must also meet origin regulations, as stated in the agreement, and exporters are to have certificates of origin, in a form stipulated by the Ministry of Industry and Trade.
VJEPA was the first bilateral free trade agreement that Vietnam entered into after the country joined the World Trade Organisation in January 2007.
The agreement covers comprehensive contents, including trade in goods and services, investment and improvement of the business environment.
When VJEPA came into effect in October 2009, Vietnam committed to eliminate some 90.6 percent of tariff lines for Japan within 16 years, while Japan pledged to eliminate some 94 percent of tariff lines for Vietnam within 10 years.
Kyohei Takahashi, president of the Japan-Vietnam Economic Committee, said while its working group met Vietnam's senior leaders in Hanoi late last month that trade between the two countries had quadrupled since the agreement came into effect.
Among ASEAN member countries, Japan had poured the largest amount of investment into Vietnam, he added.
Earlier this year, a survey conducted by the Japan Business Federation, or Keidanren, showed that Vietnam topped the list of countries where Japanese firms intend to invest in the next five to 10 years.
Decrees carrying new tariffs for several other trade deals, including the ASEAN Trade in Goods Agreement and an agreement between Vietnam and Laos, have also come into force this month.
New tariffs for ASEAN-India, ASEAN-Australia-New Zealand, ASEAN-China and ASEAN-Republic of Korea trade deals are also available./.
VNA
Link:
http://en.vietnamplus.vn/tariffs-cut-for-japanese-imports/99508.vnp